William Franklin New and Martha Rachel Cole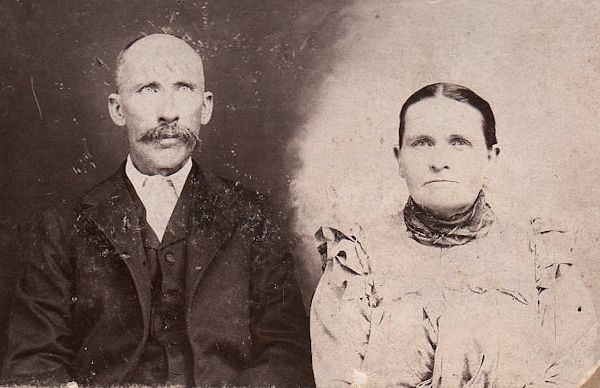 William Franklin New and Martha Rachel Cole were married in Kemper County on the 26th of January 1871. Martha was born January 31, 1850 in Richmond County, North Carolina. Her
family moved to Kemper county before the birth of her brother John in 1853. Her father Calvin Canady Cole, was a blacksmith and owned a mill on Condery Creek near Moscow. Calvin died in Kemper in 1886 and is buried at Hopewell Methodist Cemetery.
William Franklin New was born June 24, 1849 in Stanly county, North Carolina and came to Kemper sometime after the civil war. He claimed to have been detail to the blacksmith shop of the 31st North Carolina Infantry Regiment in 1863. He came to Kemper county sometime after the Civil War. Williams brother James, married Martha Coles 1st cousin Frances Yates, although James and Frances lived in North Carolina, two of their children were born in Kemper County.
William and Martha lived in Kemper county, until 1886, when the moved to Johnson county, Texas. Seven of their eleven children were born in Kemper county(Ida Octavia, Robert Calvin, Lydia, Margaret, Mary, Lillie, and James). While in Texas, 3 more children were born, George William, Nellie (died at 4 days old) and Theophilus Walden. They moved to Indian Territory in 1892 where their last child, Mattie, was born.
Martha died in 1928 in Atoka county, Oklahoma where her and William were living with their son George William New. William Franklin New died in 1930 in Logan county, Arkansas where he went to live with his youngest son Theophilus, after the death of Martha. They are both buried at Bera Cemetery in Atoka county, Oklahoma.

Contact Us
Jeff Kemp - State Coordinator
Ann Allen Geoghegan or Denise Wells, Asst. State Coordinators
Questions or Comments?
If you have questions or problems with this site, email the County Coordinator. Please to not ask for specfic research on your family. I am unable to do your personal research. I do not live in MS and do not have access to additional records.