King, Mary M.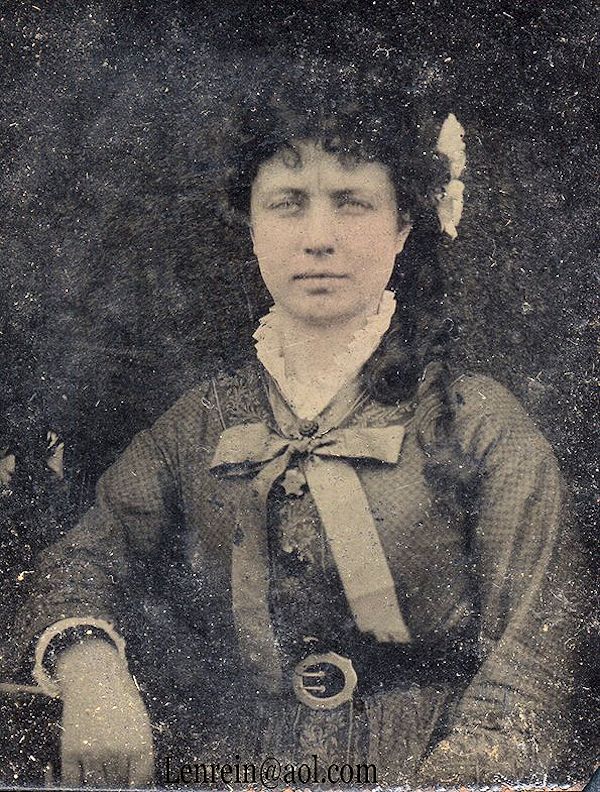 Submitted by  Len
Here is a tin-type photo of "Mat King".... I believe she is the daughter of my g.g.grandmother Lucy (White) Germany's sister Leah (White) Meeks... both Lucy and Lea were daughters of Wils and Eliza White early settlers of of Kemper County. We have Leah (White) Meeks's Bible and it states Leah's daughter Mary married W.R. King... Mary's full name may have been Mary Martha and hence the nickname "Mat"... as my g.g.grandparents Lucy (White) and Ben Campbell Germany had a daughter Martha who also went by the name "Mat".
The Meeks, Germany and White families were all living in Kemper County by the early 1840s.
Sincerely, Len
P.S. This may be Mat King on the 1880 census.....
Moscow, Kemper county Household of William R. and Marthy King:
Name Relation Marital Status Gender Race Age Birthplace Occupation Father's
Birthplace Mother's Birthplace
Wm. R. KING Self M Male W 35 GA Farmer --- ---
Marthy KING Wife M Female W 28 AL Keeping House --- ---
Census Place Moscow, Kemper, Mississippi
Family History Library Film 1254652
NA Film Number T9-0652
Page Number 87A
 

Contact Us
Jeff Kemp - State Coordinator
Ann Allen Geoghegan or Denise Wells, Asst. State Coordinators
Questions or Comments?
If you have questions or problems with this site, email the County Coordinator. Please to not ask for specfic research on your family. I am unable to do your personal research. I do not live in MS and do not have access to additional records.