Limbrick, Thomas
Story submitted by Charlene Limerick to "Kemper County, Mississippi - A Pictorial History"
The name "de l' Ambroux", taken from the name of a French town, reached Ireland via Scotland, and by the time it reached the colonies in 1665 had become "Limbrick." by 1856 it became Limerick. The dream of "farming the land" brought them to America.
Thomas M. Limbrick, fourth generation American, homesteaded 160 acres in southern Kemper County in the 1860's. All Limericks in the Kemper-Lauderdale area are descendents of two of his three sons, John and Tom.
Thomas Sidney was a poet. Many of his poems and writings appeared in newspapers in the county, state and in periodicals with national coverage.
Family Circle
by T.S. Limerick
This evening: over the dying day
The twilight shadows softly steal.
I see the unbroken family circle
Assembled for the evening meal.
Scene indelible, stamped on memory:
A low-roofed room, a lamp's flickering beams.
Precious picture, tinged with poignant longing
For a happy boyhoods' now-broken dreams.
The mirage fades and time rolls by.
Life's evening shadows swiftly grow.
Ere long the somber mantle of light
Will cover the sunset's golden glow.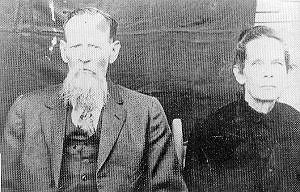 Thomas L. Limerick (1856-1926) and wife Liddie Jane Bell, affectionately known as "Pappy and Mammy". He was a prosperous farmer, merchant and business man.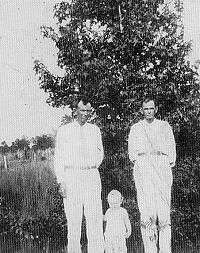 Roger Mills and son Marvin D. and Thomas Sidney Limerick, sons of Thomas L. Limerick. Thomas S. Limerick became county surveyor in the early 1900's. Ill health forced his retirement.
 
From "Kemper County, Mississippi - A Pictorial History", placed here with permission by the Kemper County Historical Commission.
Contact Us
Jeff Kemp - State Coordinator
Ann Allen Geoghegan or Denise Wells, Asst. State Coordinators
Questions or Comments?
If you have questions or problems with this site, email the County Coordinator. Please to not ask for specfic research on your family. I am unable to do your personal research. I do not live in MS and do not have access to additional records.