McDade, Douglas "L. D."
Louis Douglas "L.D." McDade was born May 5, 1918 in Kemper County. He died September 16, 1996. His parents were Louie A. McDade and Julia Puckett McDade. L.D. had five sisters: Mary McDade Dudley, Virginia McDade Ayers, Minnie McDade Rigdon, Rachel McDade Newell and Sadie McDade Miller.
L.D. attended Porterville High School and graduated from East Mississippi Junior College.
He served in the Army Corp from September 1941 until January 1946 and was stationed in Wichita Falls, Texas and Columbus, Mississippi where he trained pilots.
On July 28, 1942, he married Doris Hutcherson. They have two sons, Louis A. McDade and Robert E. McDade, and five grandchildren.
L.D. served as sheriff of Kemper County from 1952-1956; served on Governor Ross Barnett Colonel's staff from 1960-1966; served on Governor Paul B. Johnson, Jr., Fish and Game Commission from 1964-1968; served on East Mississippi Junior College Board of Directors for 38 years.
He was a member of the DeKalb Masonic Lodge #64 for 30 years and served as a deacon at Bay Springs Baptist Church. L.D. owned and operated McDade Oil Company, formerly known as Home Oil Company, from 1961 until his retirement in 1986.


L.D. McDade 1941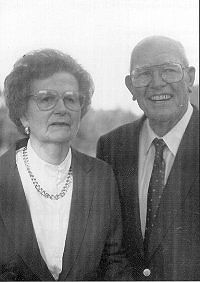 L.D. and Doris McDade, July 1992
From "Kemper County, Mississippi - A Pictorial History", placed here with permission by the Kemper County Historical Commission.

Contact Us
Jeff Kemp - State Coordinator
Ann Allen Geoghegan or Denise Wells, Asst. State Coordinators
Questions or Comments?
If you have questions or problems with this site, email the County Coordinator. Please to not ask for specfic research on your family. I am unable to do your personal research. I do not live in MS and do not have access to additional records.