Johnson, John "Jack"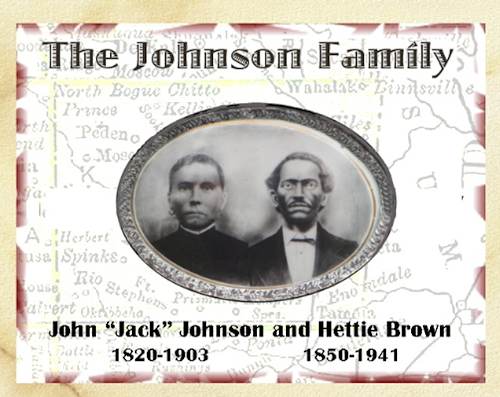 John "Jack" Johnson -(1820-1903)- Submitted by Elaine
Hettie Brown Johnson -(1850-1941)- Submitted by Elaine
 
Finding records before 1870 is difficult. This is especially true in the South with people of color. Prior to 1866 enslaved people were considered property. Sometimes a (first name) given name was used if the slave owner had a documented Will. A given name was occasionally used during a deed of sale. More commonly a slave was listed by age and color only.
Looking for these type of records can prove exhausting but not impossible. Studying land and tax records of white neighbors in 1866 through 1883 provides a starting point. Then combing through their lives to catch a "mention" of an ancestor slave can be miraculous. …and … many slaves were bought and sold numerous times, making the search more difficult if given names were not used.
So at this wonderful site I asked you to comb through the names listed. If you see just a "little" connection, please share! .-Elaine
John "Jack" Johnson (1820-1903) and
Hettie Brown Johnson (1850-1941)
John "Jack" Johnson was born 1820 in North Carolina according to most documents. During enslavement he fathered ten children; Henry, Caroline, Frank, William, Lou , Sallie, Jane, Mary, Priscilla, and one unconfirmed name. The children's birthplaces are listed as Alabama and Mississippi. The mothers of the children were presumed deceased before 1870. Oral history states that after freedom Jack went and found all but one of his children at various plantations. He brought them to Kemper County.
First documentation of Jack in Kemper County was his name in the 1866 tax list. He had to pay $1 as a colored man for taxes. In 1869 Jack is listed next to Henry, his firstborn son. Jack had to pay 1.80 in taxes for owning two mules.  About 1871 Jack married Hettie Brown. She was thirty years younger than Jack and bore him ten children; Johnnie, Carline, Viola, Jim, Matthew, Louvene, Everette, George, Ruth, and Bessie.  In 1874 Jack and children; Henry, William, and Frank paid tax on cattle, horses, swine, and even a carriage. They were on their way to having more wealth than the majority of the population. In 1876 Jack even paid tax on a watch. While Kemper County was in disarray, Jack Johnson and his family prospered.. As racial strife heightened, Jack was one of the few to keep his land and livestock. One can only figure it was because of the strength of family. His multitudes in close proximity. Working hard toiling the land and not giving up.
Now, almost 190 years after Jack's birth, we gather together as family. We have endured and flourished because of the strength, hard work, education, and love from our ancestors. Two of Jack and Hettie's granddaughters are still living. They are 106 & 107 years young! Several more grandchildren are almost centenarians. We are continually researching and "finding" family.  Some names associated with the Johnson family are; Brown, Reed, Blackwell, Gully, Turner, Cole, Hathorn, Nicholson, Lampley, Riddle, Perryman, and Hopson.  DNA indicates that Jack Johnson descends from John Witt-Whitt. John emigrated from London, England around 1666 to Jamestown, Virginia and eventually started a tobacco plantation on the North side of the James River in Charles City County, Virginia around 1673.
I am still trying to link Jack Johnson and the Witt's with written documentation.
Thank you kindly for reading a summary our family history.
Researcher Elaine
These are papers I have in my possession
Please contact Elaine for further information
 
G.W. Calvert vs Caroline Johnson; 1893
Payment of land
Names mentioned: C.S. Johnson, W.T. Johnson, Sallie Johnson, Charlie Johnson, Stennis Johnson, Robert Johnson
------
Matthew T. Johnson Estate papers filed 1970
-------
1925
Henry Johnson
Last Will and Testament
Other names mentioned: wife and children
-------------
Columbia Hopson1886
Land sale to J.W. Seale and Eli Seale
-----------
1896
B.J. Allen vs W.D. McNeill
Names mentioned :Thos. M. Ferguson
Regarding Fairview College property in Binnisville
-------------
1905
Last Will and Testament
Daniel M. Currie
Names mentioned: J. H. Currie, Martha D. Currie, Donald H. Currie, Dwight D. Currie
------------
1904
Last Will and Testament
Senie Key
Names mentioned: Mattie Key, (M.J. Knight), G.A. Key, W.C. Currie, F.A. Currie
------
1907
Last Will and Testament
John A. McNeil
Other names mentioned: D.H. McNeil, L.J.McNeil, Catherine McBride, Julia Ann Clark, Lovedy Brauin?, Daniel McNeil, Mary Jane Smith's
children , plantation in Issaquena County known as the Moore place

----------
1946
Last Will and Testament
Lottie Kelly Love
Other names mentioned: Al Love, Bettie Love, Pickett Love
--------