Oden, Martin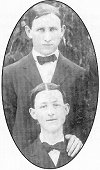 Martin Monroe Oden and Samuel Oden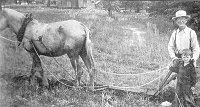 Martin Oden and William Ed McCully, father of Newton Reginald Oden and grandfather of Martin Mitchell Oden

Annette Hopper Oden, daughter of Newton and Grace Delchamp Hopper, wife of Martin Monroe Oden and mother of Newton Reginald, James Monroe and Weta Ray

Edna Gully Oden, youngest child of Dr. and Mrs. Champ Mitchell Gully, wife of Newton Reginald Oden and mother of Mary Oden Castleberry and Martin Mitchell Oden. She was one of three women to serve as superintendent of education (1944-1948) in Kemper County.

Newton Reginald Oden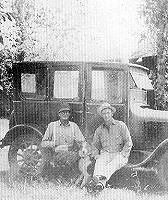 Leslie V. McDonald, Bing (L.V.'s dog) and Newton R. "Red" Oden
From "Kemper County, Mississippi - A Pictorial History", published by Rose Publishing Co. Printed with permission.
Contact Us
Jeff Kemp - State Coordinator
Ann Allen Geoghegan or Denise Wells, Asst. State Coordinators
Questions or Comments?
If you have questions or problems with this site, email the County Coordinator. Please to not ask for specfic research on your family. I am unable to do your personal research. I do not live in MS and do not have access to additional records.