Parnell, Mayberry and Susan Rebecca (Stuart)
Submitted by Jean Guice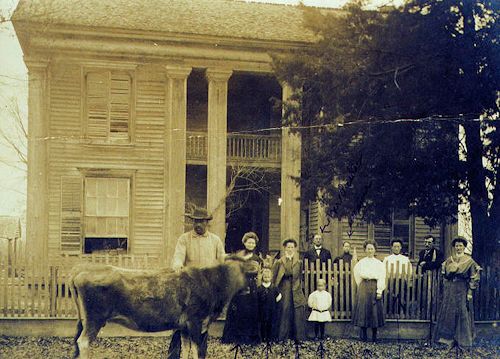 They are (from left to right) in front of the fence:
A man with a cow (unidentified)
Nellie Gray Parnell
Vivian Beazley
Allie Mae Parnell Beasley (Mrs. Jefferson Davis Beazley)
Kathleen Beazley
Minnie Parnell
Betty Parnell
Behind the fence from left to right:
William Parker (second husband of Susan Rebecca Stuart Parnell)
Susan Rebecca Stuart Parnell Parker
Delena "Dell" Hope Parnell Clark
Daniell Theodore Clark

Susan Rebecca Stuart Parnell Parker was my great grandmother. She was the daughter of Andrew Jackson Stuart and Elizabeth Calley. She married William Parker about 1900. Nellie, Allie, Minnie, and Dell were her daughters by Mayberry Bryant Parnell. Allie Parnell was my grandmother. She married Jefferson Davis Beazley. Nellie Parnell married George Bedford Webb., a Dr. Mooney, and possibly Elijah Clark.
I am estimating that this picture was taken around 1908 since my aunt (Vivian Beazley) was born in 1902, and she looks about six in the picture. I am not sure who owned this house, but I would assume it was the home of William Parker and my great grandmother. And they did live in Scooba. This looks very much like the house shown on your website except for the missing columns in front. Of course, that picture was probably taken about eighty years later, and the house by then was in pretty bad shape.
I have a lot more information on the people in the picture if anyone is interested. In addition to Parnell, I am also tracing Beazleys, Stuarts, Calleys, and Peels.
Additional Information:
We stopped in Scooba to visit with the wife of my father's second cousin (the Parnell line.) She is in her eighties and doesn't get on the internet, but I showed her a picture of the house, and she recognized it immediately. She said it was built by a Mr. Johnson (Robert Johnson?) When she was little, a Gay family lived there. She remembered Mr. Gay as having a big ear horn and a big buggy. (1920's) She said the house was abandoned for a long time, and there were rumors that it was haunted! Supposedly, screams from former slaves could be heard coming from the house! She and her husband lived with Susan Rebecca Stuart Parnell Parker the first year they were married. (rented a room) I asked her if this was the house. She said "no" that she had lived in a one-story house. So now I don't know if this was my great grandmother's house or not! I had thought since she and her second husband (Parker), my grandmother and aunts were all pictured in front of the house, it must be a family home. But now, I'm not sure. I suppose they could have been visiting, or, perhaps, they did live there at some time.
I was in Scooba several years ago, and a woman at the little grocery store there told me about an abandoned house there. (At the time, I didn't know anything about this house.) She said a local radio station (out of Meridian?) was offering a prize to anyone who would stay in the old haunted house out from Scooba. (It was Halloween.) Was this the house? Our cousin told us that a doctor from Alabama liked the house and had it torn down and moved to Alabama to use in the construction of another.
See Also Parnell Men

Contact Us
Jeff Kemp - State Coordinator
Ann Allen Geoghegan or Denise Wells, Asst. State Coordinators
Questions or Comments?
If you have questions or problems with this site, email the County Coordinator. Please to not ask for specfic research on your family. I am unable to do your personal research. I do not live in MS and do not have access to additional records.