White, John Carroll
John Carroll White, born 1848, settled in western Kemper County and established a thriving mercantile business. It was not near any rail line and he hauled his supplies from Meridian. This was a two day trip made by mule and wagon, the first day going to Meridian and loading up and returning as far as the spot in Lauderdale County which became known as Shucktown.
On November 20, 1889, White was appointed postmaster with the post office named Herbert, which was located in his store. This appointment was at a time when there were many post offices and people went to the post office for their mail. This appointment was terminated when Herbert post office was discontinued June 29, 1891. It seems to have been discontinued in connection with the establishment of rural free delivery (RFD).
White's Store became a voting precinct and the precinct retains that name today although the store is gone and the actual voting takes place at another location.
White married in 1869 and of this union four daughters survived into adulthood. The photograph of his family was made in the early years of this century when several grandchildren had come to existence.
He married a second time in 1915, this to Sudie Hoyt, who bore him on child, a son, J.C. who was born in the house pictured and who survives.
White died in 1926.
The house still stands unoccupied in an advanced state of disrepair thanks to the ravages of vandals.
The property now belongs to J.C. White, his wife, the former Imogene Davenport of Porterville, their daughter Rebecca Tidd and son, the second John Carroll White.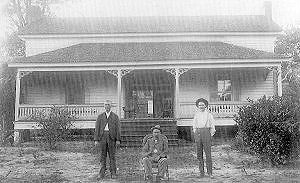 The John Carroll White home in 1899. Left to right: Dr. Milton Terry, John Carroll White and on of White's sons-in-law.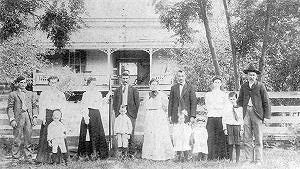 The John Carroll White family around 1900 at the family home.
From "Kemper County, Mississippi - A Pictorial History", placed here with permission by the Kemper County Historical Commission.

Contact Us
Jeff Kemp - State Coordinator
Ann Allen Geoghegan or Denise Wells, Asst. State Coordinators
Questions or Comments?
If you have questions or problems with this site, email the County Coordinator. Please to not ask for specfic research on your family. I am unable to do your personal research. I do not live in MS and do not have access to additional records.