Stennis, Samuel DeBerry, Dr.
He was a respected physician and merchant who lived in Moscow, Mt. Nebo, and from 1910 in the house he built in DeKalb. He married Jane E. Adams (1854-1895) first and Susan Anastasia Clark second. Granddaughter Annie Gene Clark married C.W. "Footsie" Gary (popular Kemper County agent from 1934-1937) in 1936.
Dr. Samuel DeBerry Stennis (1849-1925) with granddaughter Annie Gene Clark, photo circa 1915.

The three daughters of Dr. Samuel DeBerry and Jane E. Adams Stennis, circa 1900. Left to right: Elizabeth V. "Lizzie" (1884-1978) who married Eugene Richardson Clark, Annie Cornelia (1877-1972) who married Dr. Murdock McRae and Mary A. (1881-1965), who with a masters degree from Peabody in Nashville, became a nutrition specialist for the state of Florida (authoring at least two books) and then returned to Kemper County to work in Extension and County Welfare.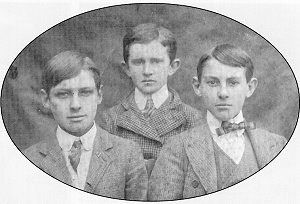 The three sons of of Dr. S.D. Stennis and Jane E. Adams Stennis, photo circa 1900. Left to right: Hampton Howell Jr. (1879-1943), who married Alma McWilliams from Blackwater area and lived in Moscow and then on Route 39 about seven miles south of DeKalb; Thomas A. (1888-1975), who married Helen Ross and lived in DeKalb; and Dr. Dudley (1875-1948) who married Lula R. Hannah and practiced medicine in Newton County, Mississippi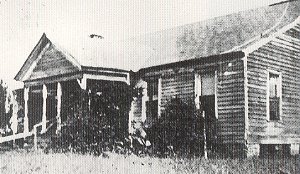 Built by Mr. Rush in the Kipling Community in 1840, this house was sold to Hampton Howell and Cornelia Adams Stennis, parents of Laurance and Sen. John C. Stennis.
From "Kemper County, Mississippi - A Pictorial History", placed here with permission by the Kemper County Historical Commission.
Contact Us
Jeff Kemp - State Coordinator
Ann Allen Geoghegan or Denise Wells, Asst. State Coordinators
Questions or Comments?
If you have questions or problems with this site, email the County Coordinator. Please to not ask for specfic research on your family. I am unable to do your personal research. I do not live in MS and do not have access to additional records.