Wells, Thomas Israel
Submitted by Kristy Williams
Thomas Israel Wells was born in Lauderdale County, Mississippi on August 16, 1848. They moved to Kemper County, and on December 27, 1867, he married Sallie Alexander, and moved to Newton County. There he purchased 600 acres of land. He joined the Beulah Baptist Church and was baptized by Reverend A. Gressett on August 16, 1874.
In November of 1876, Thomas was ordained a deacon of the church and two years later, he was licensed to preach. On May 1, 1880, he was called to Pastor the Oakland Baptist Church, where he was ordained to the full work of Gospel Ministry. He would pastor this church and also the Center Ridge Baptist Church until his death on June 26, 1898.
During those years, he did pastor other churches, however: Hickory Baptist Church, Goodwater Baptist Church, Beulah, Mt. Pleasant (16th), Pleasant Ridge, Little Rock. He, also, worked with the Indian (Choctaw) Mission.
Reverend Thomas Israel Wells was also owner and operator of a store (on his 600 acres of land) and sold food and clothing. There was also a blacksmith shop to make things like door hinges, fasteners, and also a shop where furniture was made, such as cabinets, tables, chairs, and coffins. In addition, there was a shop where shoes were made and repaired, so apparently ministry and hard work paid off!
Center Ridge, where they lived, became a thriving community. There is an interesting story that goes along with this however, and it applied directly to our family. Some years previous to 1885, Reverend Thomas Israel Wells was on his way to church that Sunday morning with several members of his family, his sister, Mrs. Lydia Wells Sadler, and a young neighbor girl named Quintella Hallas. They were on their way to attend a little country church where he was the pastor at that time. While crossing the bridge, his team spooked, and one mule pushed the other off the side of the bridge. The wagon tipped over and one mule hung precariously over the side of the bridge, above the water below. When the wagon tipped over, it threw Mrs. Sadler, (the Reverends sister) and his small children into the creek bed below some ten feet or so. The Reverend got over to the mules where he could settle them down (and he could pray), while Quintella worked frantically dragging the injured to safety. The wagon seat had critically injured his sister Mrs. Sadler, however, so John and Margaret Wootan Wells lost a daughter that day. Lydia was married to Bill Sadler, the Sheriff of Newton County, and who also served as Deacon of Center Ridge Baptist Church. Her death left their four children, Humphrey, Israel, Joe Sims, and Pat motherless.
Later, the Reverend's mom and dad (John Humphrey Wells and Mary Margaret Wootan Wells) decided to donate the land between the main ridges (with a ridge of its own) so that a little country church could be built. This became known as Center Ridge. The Church was built out of heart of pine lumber, the sills in one 40' piece, and it was hand-hewn from pine logs with the seats made of planks 14" wide and the floor, 12" wide (boards - all of pine heart lumber).
It was built with love and pride and it was here that many of the Wells family and friends of the surrounding area were converted. They were baptized in a little pool built at the same time the church was built. It was fed by a spring beneath the hillside, just east of the church grounds, the cool clear water running over moss covered rocks to fill the pool.
Reverend Thomas Israel Wells was the pastor from the beginning in 1880, until his death in 1898. Jodie Wells, a younger brother of the Reverend's dad, served from the beginning until his death as the church clerk and song leader. William Sadler, brother-in-law to the Reverend, served as deacon until his death in 1900.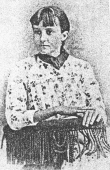 Mary Margaret Wootan Wells (mother of Thomas Israel Wells and daughter of Susan Jane Radcliff Shaw Wootan Lloyd)
Questions or Comments?
If you have questions or problems with this site, email the County Coordinator. Please to not ask for specfic research on your family. I am unable to do your personal research. I do not live in MS and do not have access to additional records.