Scott, William T.
Information and picture donated by Teryl Smith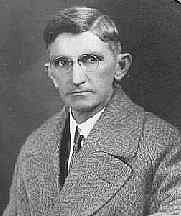 Born 1848 Kemper 
Died 1935 in Poplarville MS.

His parents were C.C. Scott and Mary Ann Bell. Mary Ann Bell is the sister of Judge Thomas P. Bell who married Amelia Eiland sister to James Oliver Eiland.
C.C. Scott and Mary Ann Bell had the following children: William, Charlotte, Samuel, Frank, James, Henry, and Charles.
UPDATE:
There were two William T. Scotts. You have the information for the earlier one.
He and his brother, Francis Tomkies Scott, did arrive early, perhaps before the treaty was signed, particularly Francis, who was a Great Grandfather of mine. My Father talked more about his Grandfather than he did about his Father. The William T. Scott for the photo was a brother of my Father. So you see I have direct information and knowledge of the photo. Your William T. Scott was William Thompson Scott. My Uncle was William T. (no middle-name), Scott. If you need more, let me know. Charley Scott

Contact Us
Jeff Kemp - State Coordinator
Ann Allen Geoghegan or Denise Wells, Asst. State Coordinators
Questions or Comments?
If you have questions or problems with this site, email the County Coordinator. Please to not ask for specfic research on your family. I am unable to do your personal research. I do not live in MS and do not have access to additional records.