Watson, John James
In 1850 John James Watson came to Kemper County from North Carolina. He was born in 1833 and married Mary A. Knighten. Their children were: John James Jr. (June 16, 1857 - August 9, 1916); Nancy J. (July 4, 1858 - January 20, 1893); Julia Scott (March 12, 1863 - June 2, 1906); William Daniel (1865 - November 20, 1938); Levi (1867 - 1880); Mary Lee (August 15, 1871 - April 5, 1959); Maggie Virginia (January 4, 1874 - June 5, 1988) and William (N/A).
John James Watson joined Company A, 35th Regiment, Mississippi Volunteers on March 6, 1862. His company fought in Altoona, Georgia, and the Battle of Atlanta. He was captured at Blakely, Alabama, in 1865 and was a prisoner of war at Ship Island, Mississippi. He was paroled and was at Vicksburg on May 1, 1865, where he fought in the Battle of Vicksburg and was paroled again and was discharged on May 4, 1865.
The 1880 census listed John J. Watson with the following information: John J., age 49, farmer, his wife Mary J. Knighten Watson, 40; the children were John J. 22, Nancy 19, Julia 17, William 11, Mary 8, Maggie 6, and William 1. Also residing in the household was Nancy Stewart Knighten, 69, who was born in Scotland.
John owned over 500 acres in Kemper County and deeded his land to Mary on October 27, 1886. Later on July 5, 1901, he and Mary deeded a parcel of land for the current site of Bay Springs Baptist Church. Nancy, his wife, died February 21, 1890. John died February 25, 1904.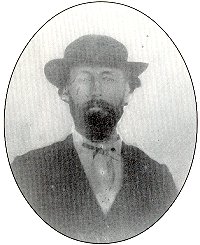 John J. Watson Sr., 1862
John James Watson, Jr., who was the grandfather of the sponsors of this page, was a Primitive Baptist minister, made roofing shingles and farmed. He married Annie Jane Creed (1860-December 13, 1954) on January 6, 1884. Their children were: Leona Pearl (November 3, 1884) married Lee Hunnicutt; William W. (July 6, 1886 - December 18, 1962) married Thelma Bartlett; Joshua Jehu (September 26, 1889 - October 25, 1918); Mary Annie Vesta (October 30, 1891 - June 18, 1948) married Evan Brown; Rachel V. (January 10, 1894 - November 3, 1898); and John Orion (September 20, 1896 - April 20, 1956) married Katie Davis.
Descendents of John James Watson Sr. are scattered throughout the United States. An annual reunion is held each September at the Watson camp in Kemper County.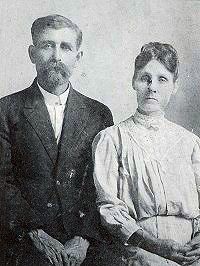 John J. Watson Jr. and wife Annie Jane Creed.
From "Kemper County, Mississippi - A Pictorial History", placed here with permission by the Kemper County Historical Commission.
 
Questions or Comments?
If you have questions or problems with this site, email the County Coordinator. Please to not ask for specfic research on your family. I am unable to do your personal research. I do not live in MS and do not have access to additional records.