Smith, Sudie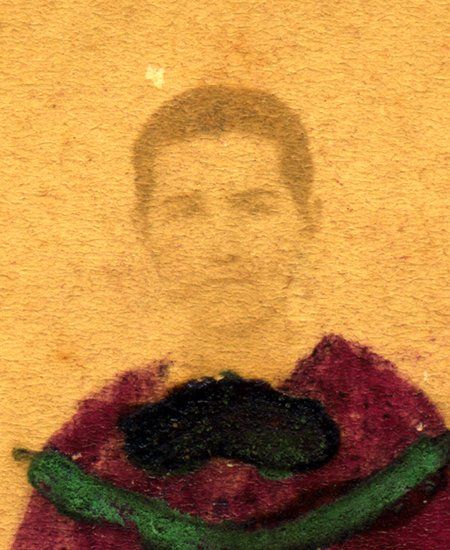 As I wrote you before for the Neshoba site, I have a rather extensive photo collection of various family members who lived in Neshoba County and Kemper County between 1839 and 1944. These photographs (tin-types, albuman prints, carte-viste, modern type photos) were taken between the years 1862 and early 1930s.
Fortunately all of these photographs have writing on the back identifying the person(s) in the image. The handwriting is both that of my great-grandmother and of my great-great grandparents. There are several "identified" individuals that I can't place in our family "history". I was hoping you could list the names on your site under 1st families and see if descendants of these people recognize the name(s) and respond.
Here is one of Kemper county resident Sadey Spinks (a neighbor of my Germany
g.g.grandparents near Moscow) from the late 1860s or 1870s.... as you will see, it is handcolored.... but unfortunately handcolored by my grandfather or his brother back in 1905 or so! the actual photo is full length portrait by W. C. Brookshire photographers of Meridian (as many of my other photos are).
Sudey Spinks and her family are shown on the 1880 Kemper county census:
Household Record 1880 United States Census
Census Place Moscow, Kemper, Mississippi Household of Sudie Spinks:
Name Relation Marital Status Gender Race Age Birthplace Occupation Father's
Birthplace Mother's Birthplace
Sudie SPINKS Self M Female W 32 MS Farming MS MS
Mary SPINKS Dau S Female W 8 MS --- ---
Windsor SPINKS Son S Male W 3 MS --- ---
Morde SPINKS Son S Male W 1 MS --- ---
With some work, this photo of Kemper County resident Sudie Spinks can probably be restored.
I noticed you have some othe much later photos of spinks family members on the site... perhaps Sudie is one of their g.g.grandmothers.
Contact Us
Jeff Kemp - State Coordinator
Ann Allen Geoghegan or Denise Wells, Asst. State Coordinators
Questions or Comments?
If you have questions or problems with this site, email the County Coordinator. Please to not ask for specfic research on your family. I am unable to do your personal research. I do not live in MS and do not have access to additional records.