Anderson Jackson, Sr. Memorial Cemetery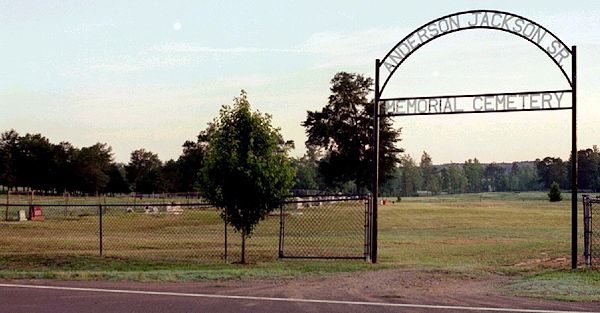 Please make note on this information that the land was donated for specific use by the descendants of Anderson Jackson, Sr. & Claudia (McClain) Johnson-Jackson. It is adjacent to Oak Grove M. B. Church on Highway 21 South in Preston, MS. (Rev. W. M. Benn, Pastor)
Cemetery Administrator: Ernestine Jackson Rogers (daughter of Anderson, Sr.)
615 Anderson Acres
Preston, MS 39354 (601)677-2114
Secretary: Delories Jackson Puckett (daughter of Anderson, Sr.)
300 Jackson Rd.
Preston, MS 39354 (601)677-4089
Family Historian: Marquita Rogers-Brown (grand-daughter of Anderson, Sr.)
617 Anderson Acres
Preston, MS 39354 (Email: MarHack2@aol.com)
To make Donations to upkeep and memorials contact Administrator.
(Stipulation to continued accessibility - ONLY direct descendants of A. J., Sr. are allowed to make policy changes)
Anderson Jackson Sr. Memorial Cemetery, Preston, Kemper, MS
Read 3 Mar 2003 by Bonnie Evans.
The cemetery is on Hwy. 21, 3.3 miles west of Hwy. 397 at Preston, Kemper, Mississippi, located in T12N, R10E, S8. It is next to Oak Grove M.B. Church, but not associated with it.
There are a number of blank funeral home markers, and the tombstone of one grave has tumbled off its base, and base and stone into the sinking grave. Where I have listed a name in parentheses following a date, that indicates a shared stone with that person (where indicated as blank, there was a double stone but with nothing engraved on the opposite side). Blank date areas on stones are indicated in the list as blank, and listings with only one date or portion of a date, that is all that is on the tombstone. Names are transcribed as spelled on the tombstone. Details in quotation marks indicate information actually on the tombstone itself or on an additional military stone. Questionable letters or numbers are marked with a question mark and any illegible number or letter is indicated by an underlined blank. I do not transcribe community service symbols as there are many, and, not knowing what every one stands for, I do not want to give anyone incorrect information by wrongly assuming an organizations name, neither do I attempt to complete military service abbreviations. Though I also do not transcribe Bible verses, poems, etc. from stones, I do add any family relationship which is shown. Any other information not on actual tombstones, but shown on funeral home markers, obtained on family interviews, etc., and which may clarify names or relationships is added in brackets.
Anderson, S. B. Mar 2, 1916-May 29, 1991 PFC US Army World War II
Bell, Rev. Less Jan 9, 1900-Jan 4, 1961 Husband [buried beside Sue Bell]
Bell, Sue died Aug 29, 1962 Mother [beside Rev. Less Bell]
Campbell, Lannie Aug 7, 1900-Feb 13, 1992
Campbell, L.C. Jan 5, 1953-July 1972
Campbell, Luxola Sep 20, 1925-blank Mother
Campbell, Mammie 1919-Oct 8.1962
Conner, Aggie Jan 15, 1859-Nov__, 1963 (Mattie)
Conner, Mattie Apr 27, 1901-Jan 31, 1969 (Aggie)
Conner, Tildon Jul 24, 1932-May 14, 1999 Daddy
Conner, ?Tyson [funeral home marker, no dates, given name not clear]
Cotton, Emmit Hezekiah Dec 4, 1926-May 18, 1948 (Lela Pearl)
Cotton, Leeoz Oct 21, 1917-Oct 14, 1985 Brother US Army World War II, no rank or company on marker
Cotton, Lela Pearl May 20, 1894-Jan 19, 1929 (Emmit Hezekiah)
Dantzler, Virginia D. Cotton Sep 15, 1922-Feb 10, 1989 [photo on tombstone]
Davis, Anie M. 1928-1998 [funeral home marker reads Mrs. Annie Matt Davis, 6/__/1928-2/19/1998, age 68]
Fulton, Aaron Oct 14, 1927-Jun 24, 1992 PVT US Army World War II
Garvin?, Mr. ?Luther Mar 6, 1925?-Jan 7, 1994 [this is an old funeral home marker only, & is not really clear]
Gathright, Ada Sep 24, 1907-Dec 7, 2000
Gathright, Genie Dec 21, 1909
Gathright, Louise Mona Feb 28, 1932-Oct 8, 1967
Glispie, John P. 1879-1971 (Sara H.)
Glispie, Neal Jan 23, 1885-Jan 1, 1973 (blank)
Glispie, Sara H. 1881-1979 (John P.)
Greer, Ann Deloris Sep 18, 1941-Mar 28, 1997
Harrington, John W. 1919-1988 PFC US Army World War II
Harrison, Addie R. Nov 8, 1957-Oct 13, 1985
Hickman, Claudia Mar 24, 1918-blank (Willie R.) Mother
Hickman, Lillie Pearl Apr 1, 1939-Dec 23, 1995 Mother
Hickman, Willie R. May 12, 1915-Nov 20, 1998 (Claudia) Father [funeral home marker reads Willie Roosevelt Hickman]
Holton, Ruth Jackson Oct 3, 1908-Nov 5, 2000
Horton, Lillie Fulton Apr 14, 1907-Jan 30, 1987 Mother
Hudson, Verell L. Jul 18, 1912-Mar 10, 1984
Ingram, Annie B. Nov 29, 1907-Jan 29, 1963 [beside John M.]
Ingram, Ivrie Sally Apr 7, 1907-Mar 27, 1973
Ingram, James Edward Aug 18, 1946-Dec 16, 1971 Kansas AO3 US Navy Vietnam
Ingram, John M. Mar 24, 1904-Jan 22, 1973 [beside Annie B.]
Jackson, Addie Welch Oct 20, 1919-Jun 5, 1989 Mother [next to Benjamin Franklin Jackson]
Jackson, Alma C. Dec 19,1919-Jul 21, 1960 (Enos C.)
Jackson, Anderson, Sr. Dec 25, 1885-May 28, 1957 [note that Sr. evidently was corrected over Jr. on stone; buried next to Claudie M.]
Jackson, Anderson, Jr. Sep 6, 1898-Mar 22, 1958
Jackson, Benjamin Franklin Jan 24, 1911-Sep 15, 1984, Father [next to Addie Welch Jackson]
Jackson, Callie Q. May 9, 1904-Sep 4, 1982 (Milford A.)
Jackson, Christopher Apr 7, 1971-Apr 7, 1971 Infant son of Mr. & Mrs. Matthew L. Jackson
Jackson, Claudie M. Jan 31, 1896-Jul 22, 1975 [buried beside Anderson, Sr.]
Jackson, Earthy Ladawn Nov 8, 1958-Dec 2, 1981
Jackson, Edna E. Turner Jan 27, 1935-Feb 17, 1998
Jackson, Elizabeth Mosley Jun 22, 1899-Feb 24, 1988
Jackson, Enos C. Jun 14, 1907-Jan 12, 1962 (Alma C.)
Jackson, Ivery A. Jun 10, 1907-Mar 28, 1990 (Sampson W.) Mother
Jackson, James Jennie May 12, 1894-Jun 16, 1977 (Luguster) Daddy Married Dec 28, 1919
Jackson, Jerry Kenzell Nov 21, 1965-Jul 18, 1985 Son
Jackson, Lester T. Aug 15, 1899-May 22, 1985 (Wilbert B.) Mother
Jackson, Loleda J. May 19, 1906-Apr 1, 1986 (Shellie R.) Mother
Jackson, Luguster Nov 24, 1901-Jan 13, 1987 (James Jennie) Mama Married Dec 28, 1919
Jackson, Luther May 29, 1932-Oct 25, 1959 Mississippi Pvt SVC Co 61 Inf Rect
Jackson, Matthew Aug 31, 1909-Jan 14, 1977
Jackson, Mack T. Nov 1865-Apr 4, 1962 Father TEC5 US Army World War II
Jackson, Milford A. Jun 12, 1900-Mar 21, 1987 (Callie Q.)
Jackson, Rosetta Feb 22, 1917-Nov 3, 1988 [funeral home marker death date reads Nov 4, 1988]
Jackson, Sampson W. Nov 2, 1904-Feb 20, 1979 (Ivery A.) Father
Jackson, Shellie R. Jun 9, 1899-Feb 19, 1970 (Loleda J.) Father
Jackson, Shellie Vernon Jun 25, 1934-Jun 25, 1995 [photo on tombstone]
Jackson, Wilbert B., Sr. Mar 14, 1898-Dec 14, 1939 (Lester T.) Father
Jackson, Zachery Oct 12, 1908-Dec 18, 1996 (Rosetta) Pvt US Army World War II
Jones, Annie Hickman Mar 15, 1897-Dec 2, 1981 (James)
Jones, James Feb 15, 1889-Jan 28, 1992 (Annie Hickman)
Jones, James Jun 14, 1926-Apr 23, 1996 TEC4 USArmy
Jones, Lester Sep 11, 1921-Dec 23, 1966 Father of Rosie, Annie, & Maggie
Jones, R.B. Oct 17, 1917-May 9, 1988
Knave, Mrs. Nellie 1895-1998
Logan, Pairlee Feb 18, 1907-Dec 20, 1987
Logan, Willie Jan 3, 1895-Aug 22, 1977 Pvt US Army World War I
May, Georgia Murry Aug 22, 1895-Jun 16, 1979
Moore, Lee Andrew May 16, 1963-Dec 21, 1997 Son of Sara E. Moore, Father of Alexias and Alonah
Murray, Eddie Mack Jul 6, 1915-Mar 6, 1992 (Etta Mae) Father
Murray, Etta Mae Sep 25, 1917-Nov 4, 2000 (Eddie Mack) Mother
Patty, Bessie Mae Oct 15, 1937
Patty, Ella 1902-Aug 3, 1987
Patty, Moses Lee Jun 12, 1954-Apr 2, 1978
Peacock, Mack Jan 17, 1916-Jan 6, 2002 PFC US Army
Sanders, Violar Sep 19, 1907-Apr 18, 1955
Scott, Opal J. Nov 5, 1938-Mar 12, 1962
Stennis, Annie Lee Jan 23, 1969-Mar 8, 1972
Stennis, Iva Conner Jan 5, 1900-Sep 12, 1983 Mother
Stewart, Miss Camella Feb 3, 1961-Sep 11, 1985
Stewart, Ira Lee May 12, 1911-Dec 7, 1985 Mother
Stewart, Otis Jr. May 3, 1956-Sep 8, 1979
Sudberry, Mandy Hale Jun 2, 1910-May 17, 1991
Thames, Monique Jan 5, 1959 Infant daughter of Bob & Barbara Thames
Thigpen, Eliza Jun 1, 1903-May 2, 2000 Aunt
Walker, James E. Jun 7, 1923-Oct 16, 1989
Welch, John D. Apr 5, 1925-Aug 20, 1999 [next to Virginia]
Welch, Virginia 1925-1993 [next to John D.]
Wilkins, Mary Z. Dec 6, 1912-Sep 20, 1999 Loved by All Lola
�