Bloomfield Presbyterian Church Cemetery
submitted by Bonnie Evans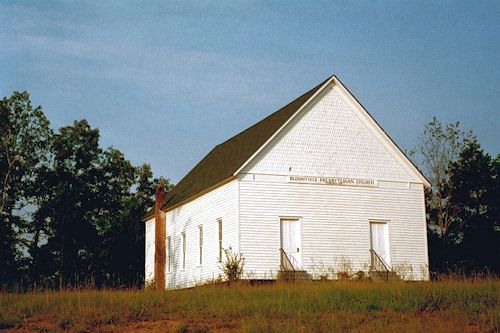 This cemetery is on Hwy. 397 about 1.5 miles north of the Kemper Lake road (and that is approximately 1 mile north of Hwy. 16, all just west of DeKalb). The church and cemetery are on the west side (left, coming up from Hwy. 16). Located in T11N, R15E, S15, the cemetery, next to the church, is fenced but the fence is rusted, and the grounds, though not in an awful condition, badly needs mowing. There are few commercially made tombstones, several homemade ones, and a number of graves are marked simply with a native stone. There are only partial dates on some of the stones. Many graves are marked only with empty, rusted funeral home markers. The fairly well-kept church is a lovely, old-fashioned white lapside, with the traditional two front doors, and was established in 1897. It is supported underneath by columns of native stone. There is no sign with pastor's name or hours for services, but the church seems to still be in at least occasional use.
(#name)=separate but same style stone as given (first name, same surname)
FHM=Funeral Home Marker
SO, WO=son of, wife of
[other wording on stone]
In a separately fenced section next to the church:
A pile of native stones, arranged roughly in a rectangle, most probably a gravesite
6 separate native stones, seeming to mark graves
Boykin, Ella Waddell 10/5/1879-5/3/1925 (Note: this grave enclosed in a concrete curbing, with one more grave marked only with a simple concrete block set with white marble chips) THE UNMARKED GRAVE IN THE ENCLOSURE WITH ELLA WADDELL BOYKIN IS THAT OF HER MOTHER, MARTHA ANN (SPEARS) WADDELL. THE DATES FOR MARTHA ARE OCT 2, 1842 - OCT 25, 1923. SHE IS A GG GRANDMOTHER OF MY WIFE. THE DATES I GAVE ARE FROM DEATH CERTIFICATE.
Brittain, Joseph 5/15/1792-2/11/1843
Conn, Isaac, CO I 5 MISS INF CSA (no dates)
Robertson, Clifton SO H.R. & J.M. Robertson 11/7/1896-7/9/1897
Robinson, Florence 1/14/1876-8/22/1962
Robinson, James R. 8/16/1874-4/20/1958
Robinson, Narcissa, WO Harvey Robinson 6/15/1839-7/3/1914 [Mother]
Robinson, Richard W. 4/17/1870-5/23/1938 [Our Daddy]
Robinson, William 6/13/1867-11/5/1927
Robison (sic), James Gaston SO J.R. & F.E. Robison (sic) 8/17/1898-4/19/1911
Russell, Nancie, WO J.R. Russell 1844-4/23/1914 [Our Mother]
Russell, J.R. CO K 8 ALA INF CSA (no dates)
Williamson, Elizabeth 1834-1918 (#George)
Williamson, George 12/_(no day given)/1836-9/_(no day given)/1887 (#Elizabeth)
Next to the fence between the two sections, near the front corner, is a broken, piled up concrete curbing.
In Section 2 of the cemetery:
There are about 20 funeral home markers with no discernible writing whatsoever. One indicates Beck Funeral Home, ___North Street, ___, one is from Clark's Funeral Home in Meridian. One seems to read Louisville. Those with any information at all readable (and these are very difficult, and possibly incorrect) are:
1. Ms. Rosie Lee Mc___ton 3/18/1909-11/1/1991, age 82
2. Bill (?Rone, ?Rose, ?Rine), 4/15/1912-4/19/2002, age 84
3. Mrs. _____ Grady _/_/__-_/_/1994
4. Mrs. Allie Lucas 7/29/1919?-8/25/19__ (Beck Funeral Home, Louisville)
5. No legible name or other dates, died _/_/195_, age 91 years
Grady, Fred 8/15/1911-2/26/1983 [In Loving Memory of My Husband]
Jack, T.W. 7/_(the stone itself has a blank line here)/1925-3/3/1974
Kirk, Annie 2/9/1869-1/22/1958 (#Sam & Ada Peden)
Peden, Ada 3/16/1902-5/27/1980 (#Sam, Annie Kirk)
Peden, Sam 8/22/1900-12/15/1968 (#Ada, Annie Kirk) FHM DeKalb
Pitre, Johnathan 4/17/1973-4/17/1973
Rush, Berronika Eve 4/3/1958-10/5/1987
Rush, Carrie born 1893-died 8/3/1945 (this is a homemade concrete stone, and is very unusual in that the lettering is raised, and a decorative band of broken colored glass and pottery runs across the top; 2 native stones stand near this grave.)
Rush, Charles and Mary (single stone, no dates nor decoration; 2 footstones marked CR and MR, all homemade)
Rush, Mrs. Daisy 2/5/1878-4/27/__(homemade stone, rest of date is buried) [Mother]
Rush, James E. 5/15/1925-6/9/2001, age 76 FHM
Rush, James E., Jr. 8/24/1948-8/21/1968 Mississippi PFC 25 INF DIV Vietnam BSM- PH
Rush, James L. 5/15/1925-5/9/2001
Rush, James W. 4/30/1914-7/6/1987 US Army
Rush, Jane WO George Rush, died 2/?27/ 1899?, age 74
____, George, died _/_8/1898, age 74
(These 2 stones are homemade concrete, similar in style and side by side, so one might assume George is George Rush: his stone is broken and the surname is missing; two native stones stand next to these 2 graves.)
Rush, John H. 1/12/1880-3/16/1963 (single stone with Martha)
Rush, Lucy 1/11/1865-2/11/1962 [Mother] (2 native stones nearby)
Rush, Martha 12/25/1886-2/28/1969 (single stone with John H.)
Stevenson, Willie 1890-1970 (a small, blank plaque, meant to contain the deceased's information, but fancier than the usual metal funeral home marker, is lying on the ground next to the funeral home marker, both marked Enterprise Funeral Home, Meridian)
At best, this was a difficult cemetery to "read." Corrections and additions would be most welcome, especially is someone has knowledge of the graves indicated by only rocks or blank markers. This reading done in June 2002 by Bonnie M. Evans.
On a visit to Bloomfield on Mar 3, 2003, to recheck a name and couple of dates, I was privileged to meet (the living!) Mr. Henry Chester Rush, many of whose family are buried there. He gave me several family relationships as well as the fact that others of his Rush family are buried there, without tombstones, including Willie Rush and Tommy Rush, though he has no idea of their dates.
Relationships given to me by Mr. Rush (and I carefully read them back to him for correction to be certain I had them right as they were told to me) are:
Siblings: Daisy Rush, Charles (whose wife was Mary) Rush, Tommy Rush, Lucy Rush
Tommy's son, Willie, married Carrie...their children included James W. and Henry Chester. Berronika Eve was the daughter of James W.
Lucy Rush's son, John H. (known as "Jack") married Martha.
I have verbal permission from Henry Chester Rush (in the presence of his son) to use his name as part of the record. This is a Black cemetery.