Shepard Cemetery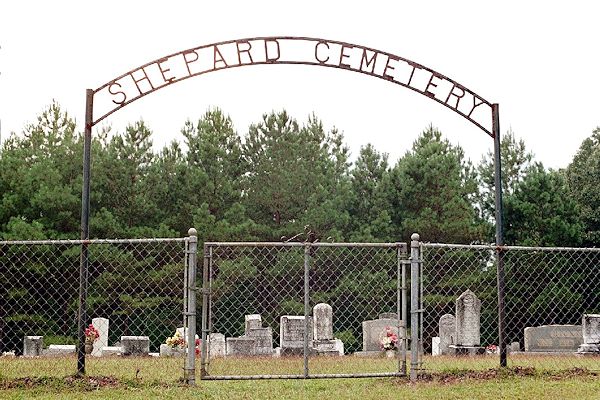 Picture submitted by Bonnie Evans.
Names submitted by Carolyn Wilkins and Bonnie Evans.
(Church no longer there)
Location: Highway 495, 2.6 miles South of Hwy 397 at Preston, MS
Directions: From Hwy 397 at Preston, turn South onto Hwy 495, travel about 2.6 miles, Shepard Cemetery is set back from the road, on the right side. (Submitted 1/23/2000 by Carolann Arthur.)
Symbols and abbreviations used in the listing are:
(*name): Same stone shared with (given name), same surname
(#name): Separate stone similar in style to (given name), same surname
b&d: born and died
FHM: Funeral Home Marker
IDO, IO, ISO: infant daughter of, infant of, infant son of
BO, DO, HO, SO, WO: brother of, daughter of, husband of, son of, wife of
M/M: Mr. & Mrs.
[any other wording on stone]
Allen, Lillie J. Teer Jan 30, 1922 - Feb 10, 2001 (*Okley L.)
Allen, Okley L. Feb 22, 1909 - Apr 17, 1995 (*Lillie J.)
Atkinson, Cora Burch Jul 10,1887-Dec 17,1931 (*Frances)
Atkinson, Frances Lucile Oct 12,1920-Sep 10,1940 (*Cora)
Atkinson, Laura Arlene Mar 25,1905-Feb 7,1987 (*Frank)
Atkinson, William Frank Jan 3,1884-Jan 14,1960 (simple stone @ his foot, "Frank Atkinson,1884-1960" (*Laura)
Ball, Azzie Lee Sep 1,1899-May 28,1977 (*Littleton)
Ball, Laurel Daniel 1931-1985, US Marine Corps Korea
Ball, Littleton M. Oct 1,1890-Dec 4,1946 (*Azzie)
Baughman, Dorothy June Jun 15,1926-Apr 6,1927 (4 Baughman children side-by-side)
Baughman, Harlon Burnice Sep 30,1909-Oct 18,1918
Baughman, Milton B./G. Dec 3,1885-Jan 25,1958
Baughman, Russell E. Mar 29,1909-Jun 9,1913
Baughman, Samuel E. Jun 20,1916-Jul 23,1926
Burch, Coleman Addison Mar 29,1893-Dec 12,1953 (*Sally Brand Burch)
Burch, Georgia F. May 23, 1862 - May 12, 1927 , Wife of Robert A. Burch, Daughter of Henry H. Shepard (*Robert)
Burch, Robert A. Feb 25,1850-Apr 27,1930 (*Georgia)
Burch, Sally Mae Brand Oct 2,1895-Jul 8,1941 (*Coleman Addison Burch) Wife of Coleman A. Burch
Cowart, Talton C. Sep 4,1881-Jul 18,1937
Crocker, George Thomas Aug 4,1905-May 16,1943
Crocker, John T. Dec 14,1885-Oct 7,1966 (*Willie B.)
Crocker, Lillie Nov 20,1866-Aug 14,1958, Wife of Thomas J. Crocker
Crocker, Thomas J. Feb 20,1860-Jan 13,1927
Crocker, Willie Birdell Sep 20,1883-Apr 8,1970 (*John T.), Wife of John T. Crocker, Daughter of Joseph H. Shepard
Fain, Hessie Wright Jun 28,1929-blank (*Homer Ray
Fain, Homer Ray May 17,1932-blank (*Hessie Wright) ("married Dec 9,1947")
Haggard, Clara Crocker Nov 28,1915-blank (*James T., Sr.)
Haggard, Earl Oct 27,1919-Mar 14,1999 (*Sallie)
Haggard, James T., Sr. Feb 27,1917-Sep 16,1983 (*Clara Crocker)
Haggard, John David Mar 27,1956-Dec 22,1984
Haggard, Sallie May 25,1915-(blank)(*Earl)
Hailey, Mart Stevie [Son] Sep 29,1955-Apr 23,1977 (*Sally J. Young Hailey, see Howell)
Hailey, Sally J. Young [Mother] Sep 9,1935-Mar 30,2000 (*Mart Stevie) (FHM reads Sally Young Howell aged 64 years, 6 mo., 2 days)
Hicks, Alonzo M. Aug 5,1869-Jun 19,1941 (next to Welthia Jane)
Hicks, Clay Jackson Apr. 4, 1870 - June 20, 1957 , Note. Clay Jackson Hicks is buried between Lenner Hicks (1st wife) and Janie Hicks (2nd wife) *Janie, Lenner)
Hicks, Janie Partridge 1880 - Feb. 14, 1945 (*Clay J., Lenner)
Hicks, Lenner Hutton and infant 1879-1912 (*Clay, Janie)
Hicks, Print W. Jan 28,1875-Aug 8,1962 (*Viola, Sallie) Note: Print W. Hicks is buried between Viola Shepard Hicks (1st wife) and Sallie Hadley Hicks (2nd wife) Carolyn Wilkins
Hicks, Sallie Hadley Jun 25,1880-Nov 22,1961 (*Print, Viola)
Hicks, Viola Shepard Dec 6,1876-Mar 31,1918 (*Print, Sallie)
Hicks, Welthia Jane Jun 17,1873-Aug 22,1944 (next to A.M.), Wife of Alonzo M. Hicks
Higginbotham, A.W. Apr 30,1912-blank (*Evid) [Pvt US Army WW II Apr 30,1913- Apr 27,1983]
Higginbotham, Evid Jan 24,1927-Jul 7,1977 (*A.W.)
Howell (see Hailey, Sally J. Young)
Jackson, Joseph Edward Mar. 28, 1858 - Oct. 14, 1937
Jackson, Infant d. Mar. 15, 1923, Daughter of Mr. & Mrs. J. E. Jackson
Jackson, Malissa Teer May 1, 1880 - April 25, 1966 , Wife of Joseph E. Jackson, Daughter of Elbert Teer
Landrum, Zona Luke 1897 – 1921,Wife of Webster C. Landrum
Luke, Addie June 27, 1881 - Sept 21, 1927 , Wife of J. W. Luke
Luke, Elmo Mar. 22, 1913 - Aug 22, 1981 (*Evie Hicks)
Luke, Evie Hicks Dec. 8, 1914 - May 14, 1977 (*Elmo)
Luke, Infant no dates, daughter of Elmo & Evie Luke (1 of 2 identical stones)
Luke, J. Wilbur Nov 16,1901-Dec 22,1950 (*Lillian) (note dates: this is a separate stone from Wilbur Luke)
Luke, Jennie 1890 – 1942, Wife of Monroe Luke (I believe this is Nancy Virginia Gillis, DO J.A. & Martha Rebecca Rainey Gillis; if so, b. Jan 7,1888; she m. M. Luke Mar 24,1929 in Kemper Co.)
Luke, Levi Whittle Feb 9,1902-Sep 25,1948 (*Alice Luke Nowell)
Luke, Lillian E. Dec 13,1900-Aug 16,1997 (*J. Wilbur)
Luke, Monroe Aug 14, 1877 - Sep 9, 1967 (H/O Jennie [Gillis])
Luke, Paul Levi Oct 29,1934-Nov 28,1999
Luke, Wilbur Nov 16,1901-Dec 2,1950 (note dates: this is a separate stone from J. Wilbur Luke)
Luke, William Henry Apr. 20, 1925- Oct. 1, 1928 , Son of Levi Luke
Mardis, Janet Elizabeth Oct 7,1945, infant daughter of Mr. & Mrs. C.O. Mardis
Mardis, John H. May 18,1868-Sep 26,1935
Mardis, Ruby S. Apr 6,1899-Aug 25,1919, wife of L.A. Mardis
McFarland, Elvin Odell Jul 25,1915-Jul 2,1916, SO J.L. & M.E. McFarland
McFarland, Imo T. Jul 4,1890-Apr 9,1913, WO C.E. McFarland
McKelduff, John D. (no dates)
McKleduff, S. B. Nov 8,1884-Oct 26,1918 [USA, two rifles, crossed across the barrels) Note the two spellings: both are commonly used. This family settled in Marengo Co., AL, from the Carolinas, and are ancestors of many Kemper & Madison County Cooks.
Myers, William John Apr 21,1882-Apr 4,1937
Myers, Willie Irene Dec 28,1927-Jun 25,1928 (next to Willie Leona)
Myers, Willie Leona Mar 6,1893-Jan 12,1928 (next to Willie Irene)
Nowell, Alice Luke Oct 29,1906-Nov 13,1981 (*Levi W. Luke)
Palmer, Clarence Mar 13,1916-Dec 13,1995 (*Lillie C.)
Palmer, Lillie C. Sep 29,1917-blank (*Clarence)
Permenter, Irwin Mar 20,1909-Feb 26,1971 (*Mary)
Permenter, Mary May 30,1919-Feb 6,1988 (*Irwin)
Permenter, Walter Royce Dec 12,1938-Jan 2,1939
Sanford, Bessie H. Sep 13,1908-Feb 14,1989 (*L. Park)
Sanford, Clara P. Jan 17,1881-Dec 17,1952
Sanford, Little Corine Mar 18,1916-May 9,1917, daughter of V.H. & Clara Sanford
Sanford, L. Park Feb 20,1913-Apr 3,1991 (*Bessie H.) (note death month is corrected from January on stone)
Sanford, Flay Eugene Sep 17,1920-Oct 18,1933
Sanford, Odell Shepard Dec 14,1913-Aug 13,1930, son of E.A. & Mable Sanford
Sanford, Virgil H. Jan 18,1878-Dec 23,1939
Shelby, Mary Leona Mardis Oct 26,1898-Mar 8,1937
Shepard, Evelyn Oct 11, 1880 - Apr 25, 1972 , Wife of William A. Shepard (next to W.A.)
Shepard, Infant Aug. 5, 1904 - Aug. 9, 1904 , Son of W.A. & L.E. Shepard
Shepard, Joseph H. Co. I Miss. Inf., CSA, No dates (next to Mary E., similar stone)
Shepard, Julia E. Aug. 11, 1850 - June 8, 1920 , Wife of W. Green Shepard
Shepard , Leon Vernon Dec. 20, 1914 - Mar. 16, 1915 , Son of W.A. & L. E. Shepard
Shepard, Livie E. Oct 19, 1891 - Mar 12, 1966
Shepard, Livona Jane Nov 18, 1884 - Dec 13, 1980 (*Lucien)
Shepard, Lucian Aug 19, 1878 - Mar 16, 1974 (*Livona Jane)
Shepard, Mary E. Jun 12, 1862 - Feb 16, 1941 , Wife of Joseph H. Shepard (next to Joseph H., similar stone)
Shepard, W. Green Feb 3, 1853 - Apr 12, 1927
Shepard, William Alfred Aug 13, 1879 - Apr 22, 1943 (next to Evelyn)
Shepard, Zona Aug 4, 1878 - Nov 21, 1943 , Wife of A. W. Mardis, Daughter of Joseph H. Shepard
Shephard, Elton Sep 21,1912-Nov 18,1917, son of Mr. & Mrs. E.A. Shephard
Shephard (sic), Little Dennis May 30,1916-Oct 17,1918, son of Mr. & Mrs. E.A. Shephard
Shephard, Mable Mar 31,1890-Aug 1,1925, wife of E. A. Shephard
Stokes, Children of George & Sally Stokes: Nannie Gracie, Edna Earline, Cecil, Martha, Dartha (one large stone, no dates)
Stokes, George W. Aug 30,1881-Feb 26,1926
Swishier, Infant Jan 14,1952, daughter of Paul & Elizabeth Ball Swishier
Teer, Eli May 3, 1844 - Nov 25, 1931, Gamblin's Co, MS Cav., CSA (#Margaret M.)
Teer, Francis S. Jan 21, 1890 - Nov 4, 1977 , Wife of Virgle D. Teer (*Virgle)
Teer, H. G. hand painted native stone (see note Hershel Glenn Teer)
Teer, Hershel Glenn Sep 3, 1940 -no other visible date, may be buried (prob. same as HG Teer, this stone being at the head and the native stone being at the grave's foot)
Teer, Margaret M. Oct 16,1846-Aug 21,1938 (#Eli), Wife of Eli Teer
Teer, Nellie Jane Oct 25,1882-Jun 11,1970 (#Robert W., Vernie)
Teer, Robert W. Apr 12, 1869 - Mar 16, 1961 (next to Sallie; #Nellie Jane, Vernie)
Teer, Sallie Apr 8,1884-Feb 17,1911, Wife of Robert W. Teer (next to Robert W.
Teer, Thurman Odell Mar 15,1914-Jul 29,1990 (*Vonnie) (FHM "Mr. Odell Teer")
Teer, Vernie E. Sep 22,1885-Mar 6,1975 (#Robert W., Nellie Jane)
Teer, Virgle (sic)D. May 22,1879-Nov 3,1963 (*Francis)
Teer, Vonnie D. Feb 27,1914-Jan 31,1994 (*Thurman) (FHM "Mrs. Vonnie D. Baker Teer"), Wife of Thurman O. Teer
Teer, Wiley L. Nov 23,1874-Apr 21,1959
Thornton, Matthew, FHM only, name hand-lettered, no dates, no funeral home name (next to Samantha)
Thornton, Samantha died Apr 19,2002, FHM, aged 17 years, 9 months, 6 days (beside Matthew)
Warren, Frances Young Dec 7, 1937 - Jan 26, 1999
Wilson, Melvin Clayton Jun 8/9, 1910 - Sep 18, 1915 , Child of Mathew and Molly Wilson, Linda McGehee Joyce Tucker
Wilson, Mollie Shepard Feb 28, 1882-Feb 1,1977 (*Mathew Emerson) - From Tombstone reading
Wilson, Mary Elizabeth (Shepard) Feb 28, 1882 - Feb 1, 1977 , Wife of Mathew Wilson -submitted
Wilson, Mathew Emerson Jan 12,1879-May 25,1954 (*Mollie Shepard) (his military records show 1883)
Wright, Allie S. 1898-1977 (*John W.)
Wright, Bertha B. Apr 23,1928-Mar 25,1982 (*Levi)
Wright, Edd (sic) Apr 7,1882-Oct 2,1929 (next to Emma E.)
Wright, Emma E. Mar __/1857-, WO J. W. Wright (broken, repairs have obscured any other date; next to Emma is the lower portion of a stone without dates or names, but has a quote; it is possible that this is the lower portion of Emma's stone, as hers seems quite short for the design of its remaining portion, but this is doubtful, as the script differs)
Wright, John W. 1891-1943 (*Allie S.)
Wright, Levi Dec 13,1920-blank (*Bertha B.)
Young, Andy Gray Jul 13, 1908 - Jun 21, 1987 (*E. Jo)
Young, Bobby G. Jun 2, 1933 - Dec 2, 1997, military stone US Army Korea, same dates
Young, Charlie W. Jun 22, 1883 - Aug 4, 1957 (*Mattie)
Young, E. Jo Hicks Apr 29,1917-blank (*Andy Gray)
Young, N. G. Cleveland Feb 2, 1915 - Apr 2, 1927 , Son of Mr. & Mrs. C. W. Young
Young, Mattie W. May 17,1893-Jun 9, 1978 (*Charlie), Wife of Charlie W. Young
Young, Michael Larry, son of G.C. & Cecil Young Aug 25,1950
A single small stone with the initials V.H.
*Double stone, same surname, with given name shown
F, family headstone with surname, individual stones at foot
I, individual stone at foot of family stone
FHM, funeral home marker
Listing made 3 June 2002 by Bonnie Murphey Evans, proofread and corrected Sep 2002; information indicated in quotation marks is actually on the tombstone itself. Any family information known by me is marked in red, any other note of interest or for clarification is included in parentheses.