Big Oak Methodist Church & Cemetery
Submitted by Grayson England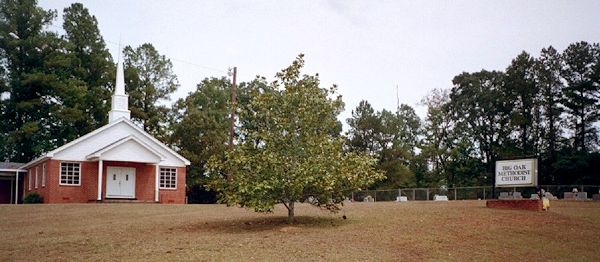 Click on picture for a larger view.
Picture submitted by Bonnie Evans.
Big Oak Methodist Church Cemetery
Moscow, Kemper Co., MS
Location: Jackson Road, near Hwy 495
Directions (1): From Highway 16, turn South on Highway 495 and continue to Jackson Road [a store is on the left side of the road], turn East. Big Oak Church & Cemetery are located on the left, about 4/10ths of a mile.
(2) From Hwy 493, turn West on Jackson Rd, travel about 3.5 miles, Big Oak Church & cemetery are on the right side of the road. (Directions Submitted 1/23/2000 by Carolann Arthur.)
8 graves marked by stones
One stone at the front of the gate reads:
In Memory of Mattie Newel Peden
First Member of Big Oak Methodist Church
CLAY, Tom Lyle Dec 18, 1916 - Mar 08, 1985
DARNELL, Eunice Hagan May 28, 1908 - Dec 10, 1994
DAWS, Elia Griffin July 20, 1928 - Wife of Fred Lamar Daws
DAWS, Fred Lamar April 26, 1922 - Apr 22, 2001 Husband of Elia Griffin Daws
FARROW, James Calton Aug 07, 1894 - Oct 23, 1982 Husband of Tiny Pace Farrow
FARROW, Tiny Pace Oct 25, 1900 - July 30, 1983 Wife of James Calton Farrow
FOX, Donald P. Jan 29, 1965 - Oct 14, 2000
GALLOWAY, Claud Newton Sept 22, 1894 - Jan 11, 1968 Husband of Nellie Iris Galloway
GALLOWAY, Jessie McKee Oct 23, 1925 - Wife of Thomas Lester Galloway
GALLOWAY, Nellie Iris Oct 08, 1898 - Dec 27, 1970 Wife of Claud Newton Galloway
GALLOWAY, Thomas Lester July 23, 1911 - Mar 23, 1995 Husband of Jessie McKee Galloway
GEORGE, Ethel Smith Mar 12, 1914 - Feb 14, 1983 Wife of William Thurman George
GEORGE, Lloyd Lamar (Stone is embedded into ground, and dates are not visible)
GEORGE, William Thurman Nov 22, 1915 - Husband of Ethel Smith George
GIBSON, James Phelon Sept 25, 1910 - Apr 30, 1990 Husband of Viva Salter Gibson
GIBSON, (Gee Gee) Neal Dec 05, 1900 - May 27, 1991
GIBSON, Viva Salter Oct 26, 1914 - Wife of James Phelon Gibson
GRIFFIN, Arvid D. Oct 25, 1899 - Aug 24, 1970 Husband of Elva M. Griffin
GRIFFIN, Elva M. Dec 29, 1899 - Jan 22, 1981 Wife of Arvid D. Griffin
HAGAN, Bennie M. Oct 30, 1935 - June 09, 2000 Husband of Faye S. Hagan, Married Aug 03, 1957
HAGAN, Claudie A. July 22, 1906 - Sept 03, 1994 Husband of Elna I. Hagan
HAGAN, Elna I. July 29, 1913 - Dec 29, 1978 Wife of Claudie A. Hagan
HAGAN, Faye S. Dec 16, 1940 Wife of Bennie M. Hagan, Married Aug 03, 1957
HAGAN, George H. Oct 28, 1901 - July 05, 1992 Husband of Velma W. Hagan
HAGAN, Marvin H. Aug 15, 1941 -
HAGAN, Velma W. Oct 14, 1906 - Jan 09, 2001 Wife of George H. Hagan
HARBOUR, Ida Florence Mar 26, 1918 - Jan 12, 1978 Wife of Samuel Chester Harbour
HARBOUR, Samuel Chester Jan 15, 1908 - Aug 13, 1985 Husband of Ida Florence Harbour
HARBOUR, Teency Floretta Oct 26, 1937 - Aug 01, 1971
HUDNELL, Homer Charles July 27, 1906 - Jan 20, 1975 Husband of Willie Ervene Galloway Hudnell
HUDNELL, Willie Ervene Galloway Apr 09, 1910 - Mar 24, 2001 Wife of Homer Charles Hudnell
LIGHT, Madie Peden May 28, 1886 - June 19, 1964
MARTIN, Michael Brad Sept 29, 1974 - July 21, 1983
MARTIN, Peggy Fain Oct 25, 1948 -
MARTIN, Robert Ray Dec 04, 1936 -
McKEE, Annie George Jan 29, 1913 - Wife of George Lecester McKee
McKEE, Duane M. 1931 - 1996
McKEE, Freddie Mae Echols Apr 09, 1912 - Mar 25, 1994 Wife of Gaston McKee
McKEE, Gaston Aug 12, 1907 - Husband of Freddie Mae Echols McKee
McKEE, George Lecester Oct 29, 1912 - Feb 21, 1973 Husband of Annie George McKee
McKEE, Joe Ellis (Stone is embedded into ground, and dates are not visible)
McKEE, Neva G. June 27, 1907 - June 05, 1976 Wife of Riley C. McKee
McKEE, Riley C. Apr 08, 1910 - Husband of Neva G. McKee
McKEE, Sandra Lynn June 30, 1945 - May 26, 1988
NEAL, James Arnold July 02, 1908 - Dec 30, 1991 Husband of Velera Haggard Neal
NEAL, Myrtis Harbour Aug 31, 1918 - Nov 12, 1973 Wife of Samuel Woodrow Neal
NEAL, Samuel Woodrow June 02, 1915 - Husband of Myrtis Harbour Neal
NEAL, Velera Haggard Oct 04, 1916 - Wife of James Arnold Neal
PEDEN, Alma Jean Jan 04, 1884 - Dec 29, 1973
SMITH, Oren Marguret Farrow Aug 03, 1924 - Mar 07, 1988
SMITH, Walter Sept 14, 1906 - Sept 07, 1988
WATSON, Tanner McKee - Aug 23, 1994 Infant son of Robert & Joy Watson