McRae Cemetery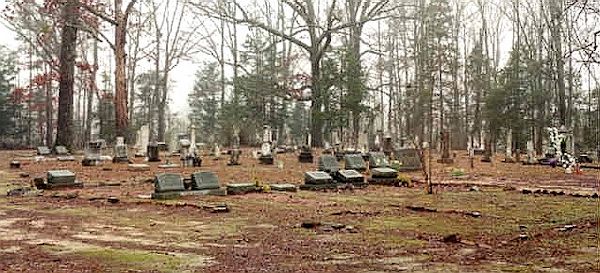 submitted by Bonnie Evans and McRae Limerick.
Reading done 3 Mar 2003 by Bonnie M. Evans.
DeKalb, McRae Cemetery is 0.7miles north of Hwy. 16 on 397: turn right onto a dirt road and the cemetery is a short distance, on the left. It is a clean, lovely old cemetery shaded by large old oaks, found in T11N R15E S25, about a mile south of the Kemper Lake road.
Adams, Clark Myatt S1 US Navy World War II Nov 16, 1925-Nov 29, 1989
Adams, Florrie McNiell (sic) Feb 8, 1899-Feb 14, 1982 (next to Samuel Chandler Adams, previously listed, and Infant children)
Adams, Infant Children of S.C. & Florrie Adams no dates
Aust, Christine Gathright Dec 25, 1900-Sep 5, 1985 (D'Morris Aust)
Aust, Morris Hill Jun 16, 1926-Jul 29, 1990, "TEC5 US Army World War II"
Branning, Daniel Robert Jan 7, 1855- June 5, 1944
Branning, Frank Warren Nov 11, 1866- Mar 19, 1898
Branning, Imer L. Dec 24, 1887 - Jan 20, 1901, Daughter of D. R. & M. R. Branning
Branning, Lovedy (McNeil) Jan 14, 1827- Aug 19, 1897, Wife of Robert Branning
Branning, Mary Rebecca (Gathrite) Sep 11, 1870- Jan 2, 1954
Branning, Robert Jan 5, 1827- Feb 22, 1890, Husband of Lovedy Branning
Branning, William H. Feb 1859- Sep 14, 1880, Aged 21 Years & 7 Months, Son of R. & L. Branning
Brewer, David M. born Dec. 8, 1951
Campbell, A. D. 1811- Jan 24, 1871, Died in the 66th year of his age
Campbell, Daniel Baxter Apr 16, 1855- May 19, 1916,"Brother", Son of A. D. & Flora Campbell
Campbell, Flora May Jul 7, 1889-Apr 30, 1982
Campbell, Guy H. Aug 8, 1887-Jun 18, 1979 (Myrtle B. Campbell)
Campbell, H. H. Sep 22, 1881- Sep 20, 1884, Son of J. A. & P. H. Campbell
Campbell, Infant born & died Sep 17, 1875, Son of Roy & Mattie Campbell
Campbell, John A. Sep 15, 1852- Feb 14, 1940
Campbell, Matty (Gully) July 15, 1861- Mar 21, 1924, Wife of Roy Campbell
Campbell, Philetta Sep 10, 1857- May 29, 1901, Wife of J. A. Campbell
Campbell, Roy Nov 9, 1859- May 20, 1935
Campbell, Roy Chalmers 1898- 1946
Campbell, Roy Chalmers, Jr. July 18, 1926- July 20, 1926, Infant son of R. C. & Esther Campbell
Campbell, Myrtle B. Aug 18, 1902-Dec 6, 1989 (Guy H. Campbell)
Campbell, Roy C. Cpl US Army Air Corps World War II Sep 4, 1923-Jun 29, 1992
Campbell, Selina Jane Oct 21, 1847- Apr 14, 1912, Daughter of A. D. & Flora Campbell
Campbell, Stanley Aug 16, 1883- Sep 1, 1883, son of J. A. & P. H. Campbell
Clark, Gladys Christine July 29, 1897- Feb 20, 1974, "Mother"
Clark, Grace Campbell Oct 30, 1878- Sep 17, 1960
Clark, John Wallace Aug 28, 1880- Aug 9, 1943
Clark, William S. Sep 26, 1887- July 30, 1958, "Daddy"
Darby, Donald Keith Nov 26, 1960-Sep 23, 1987 "Beloved Son"
Darby, Donald Wayne Sep 17, 1936-Oct 14, 1980 (Nancy Ruth Gathright Darby), "Husband"
Darby, Nancy Ruth Gathright Feb 2, 1939-Nov 28, 1998, "Wife" "Feci Superium Posserim"
Davis, Sarah B. died June 18, 1873, Aged 27 Years, 4 Months, 18 Days, Wife of W. C. Davis
Davis, William C. Sep 2, 1846- Mar 9, 1875
Gathright, Dee Nov 21, 1911- Nov 22, 1974
Gathright, Lena M. Oct 9, 1871- Mar 21,
Gathright, Mary F. Aug 31, 1850- Apr 15, 1927
Gathright, Ruth Peden Jul 15, 1914- Feb 17, 1948, 34 years old
Gathright, Tolly F. Jul 18, 1873- Sep 22, 1938
Gathright, Dr. W.R. Jul 30, 1840- Nov 7, 1912
Gathright, Willie G. Feb 1, 1881- Sep 21, 1966
Gathright, Pamela Ruth Oct 19, 1965- Oct 20, 1965
Gathright, Z. M. Feb 4, 1872- Feb 21, 1932
Henson, Harvey N. Oct 8, 1929-blank (Jonnie A.) "Father"
Henson, Jonnie A. Feb 18, 1929-Sep 27, 1995 (Harvey N.) "Mother"
Hester, Esther Campbell Jun 20, 1896-Jan 9, 1975 (Thaddeus)
Hester, Thaddeus Burroughs Oct 20, 1890-Nov 24, 1983 (Esther)
Hopper, Catherine [Catherine McRae] Sep 9, 1835 - Dec. 6, 1882, Born in Marlborough Dist. S.C., Wife of Ha.A. Hopper
Hopper, Catherine Annie Aug 4, 1882- Sep 27, 1954
Hopper, Daisy Feb 22, 1876- Feb 23, 1961
Hopper, H. A. [Hugh Alexander Hopper] Jan 22, 1839 - Dec 28, 1907,
Born in Sumpter Co. Ala., Died in DeKalb, MS, Age 69 Years
Hopper, J. N. Mar 30, 1848- Dec 21, 1923
Hopper, John Colin Dec 5, 1877- Oct 20, 1940
Hopper, M. M. Oct 30, 1849- Mar 10, 1886, Wife of J. N. Hopper
Hopper, Sarah Effia Mar 21, 1858- Nov, 1861, Aged 3 years, 7 months, 20 days
Hopper, Thadeous Mar 4, 1869- May 13, 1911
Jackson, E.T. "Jackie" Jan 31, 1927-Nov 18, 1989, "Elvin T. Jackson SSgt US Air Force Korea"
Jackson, Edna McNeill Dec 21, 1903-Dec 29, 1989 (with Elvin Martin Jackson)"Mother"
Jackson, Elvin Martin Jan 4, 1904-Jun 30-1978 (with Edna McNeill Jackson) "Daddy"
Jackson, Martin Lee Aug 25, 1944-Aug 9, 1994
Lee, Kathrine Gathright Feb 12, 1901- May 22, 1952
Lee, L. Clyde, Jr. June 20, 1931- June 23, 1931, Son of Clyde & Kathrine Lee
Lee, Luther Clyde Apr. 15, 1892- Apr 8, 1971
Lunsford, Mary 1824- Mar 10, 1904
McArn, Catherine died June 14, 1853, A native of Richmond Co., NC. a member of the Presbyterian Church for 50 years.
McCoy, Blanche Campbell Aug 5, 1885- Apr 30, 1942
McCoy, Ralph David none given
McNeill, Chester G. Jun 15, 1920-Apr 6, 1988
McNeill, Daniel Hector Sep 2, 1793- Nov 25, 1880, "Husband"
McNeill, Infant Son born & died Nov 1, 1892, Son of J. D. & R. U. McNeill
McNeill, J. Colin July 22, 1869- Nov 24, 1886, Aged 17 years, 4 months, 2 days, Son of L. J. & L. K. McNeill
McNeill, John Daniel Mar 4, 1867- Jan 12, 1950
McNeill, Katie July 28, 1859 - Mar 3, 1929McNeill, L. J. Feb 8, 1831- Jan 6, 1890
McNeill, Laura Jarvis Sep 8, 1875- Apr 6, 1963
McNeill, Leanna Peden Aug 27, 1836- Nov 8, 1908
McNeill, Mamie W. Oct 17, 1892- June 7, 1967
McNeill, Nellie G. Dec 12, 1879- Dec 8, 1967, "Mama"
McNeill, Thomas G. Nov 11, 1876- June 6, 1948, "Papa"
McRae, Addison June 6, 1860- Feb 24, 1897
McRae, Adline 1847-1848, Daughter of M. & Mary McRae
McRae, Annie I. Feb 8, 1878- Aug 18, 1880, Daughter of J. A. & S. C. McRae
McRae, Calvin Apr 15, 1850- Aug 2, 1886, Son of Mudoch & Mary McRae
McRae, Calvin Dewitt Dec 28, 1891- Mar 3, 1963
McRae, Coyt P. July 5, 1904- Aug 11, 1983
McRae, Duncan D. Sep 8, 1866- Sep 10, 1919
McRae, Earl Howell Dec 18, 1897- Oct 30, 1900
McRae, Effie Apr 5, 1812- Mar 9, 1907
McRae, Ernest Phillips Sep 6, 1881- Nov 17, 1945
McRae, Frances G. Jan 17, 1909-Sep 23, 1966 (with Coyt P. McRae)
McRae, Infant Son born & died June 1947, Son of M. O. & Agnes McRae
McRae, J. C. Apr 6, 1839- June 29, 1917 Confederate Soldier, Father
McRae, James died Oct 4, 1872, Aged 68 years, 6 months, 1 day
McRae, James A. May 30, 1837- Nov 4, 1917, "Father"
McRae, Janie Oct 26, 1875- Aug 9, 1878, Daughter of J. C. & R. C. McRae
McRae, John C. 1880-1965, "Father"
McRae, John Edward Feb 2, 1874- June 18, 1941
McRae, John Edward Feb 22, 1914- Jan 10, 1917
McRae, Josephus Apr 15, 1850- Oct1, 1887, Son of Murdoch & Mary McRae
McRae, Lawrence C. Mar 8, 1882- Aug 19, 1952, "Father"
McRae, Lena S. July 27, 1884- July 26, 1978, "Mother"
McRae, Lorena 1864-1948
McRae, Louvenia 1871-1942
McRae, Lucille Feb 15, 1900-Feb 19, 1992, "Daughter of J.E. & Ernest McRae"
McRae, Mable Beatrice Jul 18, 1897-Oct 19, 1993
McRae, Mary (McArn) Jan 6, 1803- July 5, 1878, Wife of M. McRae
McRae, Mary C. Nov 16, 1861- Oct 10, 1862, Daughter of J. A. & S. C. McRae
McRae, Mary Leake Oct 3, 1873- Nov 1, 1906, Wife of Dr. W. M. McRae
McRae, Maud 1880-1925, "Mother"
McRae, Murdock O. Nov 14, 1911-Jan 3, 1984 "Son" "Beloved Father"
McRae, Our Babe Daughter June 6, 1871- June 6, 1874, Daughter of J. C. & R. C. McRae
McRae, Permelia 1844-1919
McRae, R. C. Nov 6, 1851- Sep 12, 1892, Borned in Kemper Co., Ms.
McRae, Raymond Herschel Mar 12, 1926-Jul 1, 1992
McRae, Sarah Apr 6, 1810- Mar 12, 1879
McRae, Susan C. Aug 23, 1838- Nov 3, 1918,"Mother"
McRae, Teresa Gail Feb 10, 1960-Dec 5, 2002
Myatt, Erstine McRae Oct 27, 1908-Mar 24, 2000 (Joseph Archie)
Myatt, Joseph Archie Aug 27, 1909-Mar 6, 1992 (Erstine McRae Myatt)
McRae, William Murdock Dec 31, 1877- Feb 2, 1927
Owens, Thomas 1845-1917
Schultz, Nellie McNeill Apr 15, 1913-blank (Willis Charles) "Mother"
Schultz, Willis Charles Mar 20, 1910-Jun 10, 1995 (Nellie) "Daddy A Caring & Gentle Man" "Married 58 years
Smith, Mary J. Nov 11, 1832- Feb 23, 1862,Aged 29 years, 3 months, 12 days
Smith, Mary June Daughter of Dixon M. & Mary J. Smith
Stallings, Carrie Campbell Apr 18, 1892- Feb 17, 1970
Stallings, John Howard Feb 16,1896- Feb 15, 1971
Swearingen, Pauline C. Nov 22, 1886- Mar 19, 1965
Swearingen, Walter W. June 1, 1882- June 17, 1970
Webb, John Fernando no dates, buried in Mcrae family plot
Notes:
Next to the tombstone of M.H. Warren is a blank, rusted FHM.
On the grave of Laura Jarvis McNeill is a FHM which reads "Laura F. McNeill 1875-1963."
�