Coye Assembly of God Church Cemetery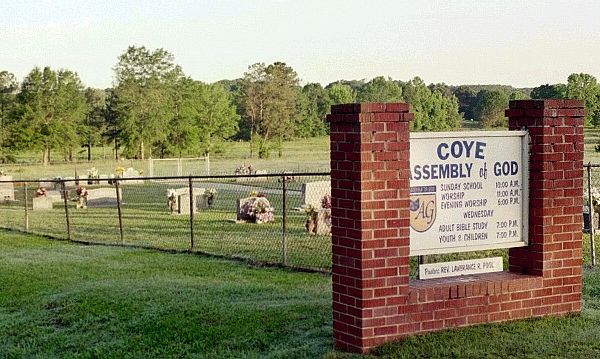 Click on the picture for a larger view.
submitted by Bonnie Evans
Completed May 12, 2003 by Bonnie M. Evans
Coye Church Cemetery is very clean, neatly mown, and enclosed in cyclone fencing. It is on McDonald Rd., just east of Webb Gooden Rd., which are both just east of the Neshoba-Kemper County lines; it is located in T12N, R14E, S18. Of interest is that every single footstone in this relatively new cemetery has been taken up and laid upon the base of its headstone. There is a concrete driveway straight through the center of the cemetery, from gate to gate.
Cumberland, Audrey Madison Sep 3, 1922--blank (*Homer)
Cumberland, Homer (Bully) (sic) Jan 13, 1918--Mar 10, 1983 (*Audrey Madison)
Cumberland, Mary Frances Mar 15, 1956--Apr 10, 1977
Duer, Patsy [FHM:d. Aug 12, 2002, age 53 yrs, 6 mos, 12 days]
Eastman, Delva Jean Aug 11, 1941--Apr 15, 1973
Eastman, Robert L. Oct 2, 1962--Feb 9, 1990
Files, James L. Mar 17, 1939--Sep 20, 2001 (*Peggy A.)
Files, James Wesley Apr 4, 1976--Apr 6, 1976
Files, Peggy A. Feb 15, 1945--Jan 29, 1992 (*James L.)
Fortenberry, Kathy Lynn May 13, 1957--May 14, 1978 [photo]
Foy, Annie Florence Jul 28, 1924--blank (*Paul Harvey)
Foy, Paul Harvey Jul 13, 1907--Oct 30, 1979 (*Annie Florence)
Fox, J.B. "Jake" Aug 12, 1909--Sep 14, 1985 (*Leona E.)
Fox, Juanita [FHM: Mar 31, 1943--Dec 25, 2000, age 57]
Fox, Leona E. Wright Sep 16, 1914--Aug 24, 1998 (*J.B. "Jake")
Goodin, J. Benford Mar 6, 1933--Jan 9, 1971 [Mississippi SP4 US Army Korea, same dates]
Goodin, Wally Feb 26, 1966--Jan 1, 1975 [photo]
Long, Lonnie "Lee," Jr. Jun 5, 1981--Jul 8, 2001
McDonald, Clara Mae Wright Jul 25, 1912--Jun 5, 1992 (*Louis Percy)
McDonald, Edna Earl Mar 3, 1922--blank (*Lester Leo)"Maw Maw" "m. Sep 9, 1944"
McDonald, Harrison Cook Feb 6, 1930--Aug 9, 1993 (note: there is a second stone at the foot of this grave, with identical information)
McDonald, Lester Leo Sep 12, 1918--Dec 30, 2002 (*Edna Earl) "Paw Paw" "m. Sep 9, 1944" [TEC5 US Army, World War II, same dates]
McDonald, Louis Percy Apr 5, 1910--May 4, 1992 (*Clara Mae) "m. Jun 19, 1931"
Miles, Kenneth Arion Mar 24, 1940--Jul 28, 1970
Slade, Lester Franklin Oct 6, 1942--Jun 12, 1973
Sullivan, Clarence Wilber (sic) Jul 23, 1905--Dec 24, 1979 (*Nancy Emma) "Father"
Sullivan, Eunice D. Feb 2, 1927--Jul 5, 1996 (*James D.) "m. Mar 25, 1944"
Sullivan, James D. Mar 29, 1926--Mar 31, 1999 (*Eunice D.) "m. Mar 25, 1944"
Sullivan, Nancy Emma Jul 25, 1908--Dec 16, 2000 (*Clarence Wilber) "Mother"
Tucker, James E Aug 24, 1958--Apr 24, 1971
Tucker, Tom Jun 24, 1924--Aug 6, 1983 (*Virgie L.) [PVT US Army World War II June 21 (sic), 1924--Aug 6, 1983]
Tucker, Virgie L. Oct 18, 1928--blank (*Tom)
Warren, Corene McDonald Feb 5, 1917--Mar 9, 1996 (*James H.)
Warren, Earline G. May 16, 1914--blank (*Elmer)
Warren, Elmer G. Mar 5, 1909--Apr 7, 1987 (*Earline)
Warren, James C. Oct 13, 1932--Oct 16, 1996 (*Willow Dean) "Daddy" "wed Dec 2, 1950"
Warren, James H. Apr 22, 1912--Nov 11, 1983 (*Corene)
Warren, Mary Kelly, IDO Wesley & Marilyn Warren May 12, 1978 (only date)
Warren, Willow Dean Feb 10, 1934--blank (*James C.) "Momma" "wed Dec 2, 1950"
Williams, Alvin L. Aug 23, 1906--Feb 10, 1999 (*Verda Mae)
Williams, Verda Mae Sep 27, 1910--Mar 28, 2001 (*Alvin L.)
Wright, Delmon L. Jan 16, 1921--Jan 15, 2002 (*Nancy E.) "Father"
Wright, Nancy E. Jan 1, 1922--blank (*Delmon L.) "Mother"
Wright, Ted D. Feb 26, 1949--Jun 26, 1970
Wyatt, Oscar Fred, Jr. Jan 15, 1923--Mar 6, 1988 (*Thelma Louise) [PFC US Army World War II, Jan 15, 1922 (sic)--Mar 6, 1988]
Wyatt, Thelma Louise Feb 4, 1924--Feb 23, 1990 (*Oscar Fred)