Lynville Cemetery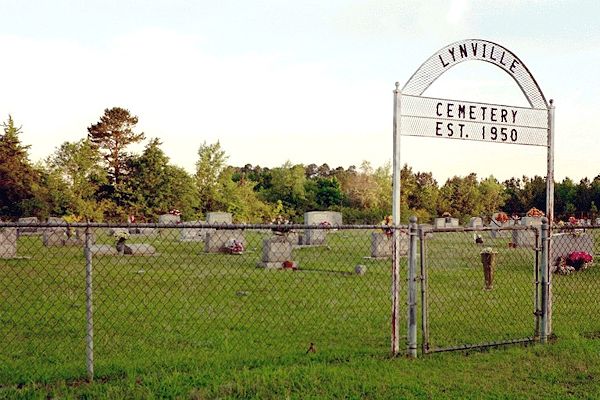 Submitted by Bonnie Evans
Lynville Cemetery, Kemper Co., MS, 6/3/2002, listing by Bonnie Murphey Evans; revisited, additions and corrections 9/5/2002.
Lynville Methodist Church is red brick with four white columns and a white steeple across Lynville Rd. from the cemetery. All are very clean and well-kept. To get there, take Hwy. 397 from DeKalb to Lynville, turn right onto Kellis Store Rd., and the church is nearly immediately on the right. Located in T12N R14E S25, it is easily reachable from any number of routes, including Hwy. 495N from Hwy. 16, Lynville Rd. (note that it is called Lynville Drive on the county map) from Hwy. 16, Kellis Store Rd. from Hwy. 39, Hwy 21 from either Philadelphia or from Neshoba County, or Hwy. 397 from Louisville, among others slightly more circuitous.
Symbols and abbreviations used in the listing are:
(*name):Same stone shared with (given name), same surname
(#name):Separate stone similar in style to (given name), same surname
b&d: born and died
FHM: Funeral Home Marker
IDO, IO, ISO: infant daughter of, infant of, infant son of
BO, DO, HO, SO, WO: brother of, daughter of, husband of, son of, wife of
M/M: Mr. & Mrs.
[any other wording on stone]
Ball, Bobby Cochran 7/24/1920-12/8/1997 FHM
Ball, Martha J. 1/19/1933-3/11/1968
Barefield, Addie Ruth 6/22/1907-8/3/1996 (*Calvin Ross)
Barefield, Calvin Ross 3/22/1900-10/15/1985 (*Addie Ruth)
Barefield, John Coleman 3/12/1933-11/12/1950
Brown, Galen A. 1/28/1916-6/6/1998 (*Marjorie M.)
Brown, Marjorie M. 3/13/1918-11/7/1995 (*Galen A.)
Burnett, Alsey Clark 1/10/1893-5/22/1963 (#Jerusha Guinn, Burk M.)
Burnett, Archie W. 9/26/1908-10/141981 [Veteran of WW II] Military stone US Army, same dates
Burnett, Burk M. "Moe" 7/4/1915-4/24/1978 (#Alsey Clark, Jerusha Guinn)
Burnett, Byron Floyd 2/8/1910-blank (*Mary Pearl) [married 11/1/1936]
Burnett, Charlie C. 4/27/1886-8/18/1963 (#Minnie M.)
Burnett, Doris F. 6/12/1895-1/14/1972 (*Howell C.)
Burnett, George Fulton 4/11/1920-blank (*Katherine M.) [married 1/19/1943]
Burnett, Howell C. 4/14/1898-2/20/1969 (*Doris F.)
Burnett, Jerusha Guinn 8/11/1893-2/23/1982 (#Alsey Clark, Burk M.)
Burnett, Katherine M. 1/18/1926-blank (*George Fulton)
Burnett, Mary Pearl Clark 2/12/1912-blank (*Byron Floyd)
Burnett, Minnie M. 4/8/1885-9/7/1967 (#Charlie C.)
Clark, Eva Fulton 4/28/1906-1/9/1997 (*Jasper Daniel) [married 12/24/1926]
Clark, Jasper Daniel 5/22/1898-2/13/1996 (*Eva Fulton)
Clark, Thomas Mitchell 6/7/1936-9/9/1970
Cobiseno, Salvatore J. (Harry) 1906-1972 military stone California CM2 US Navy World War II Phillipines 9/9/1906-8/31/1972
Cook, Arden Elmer 12/30/1894-12/25/1968 (*Ludie Luke) BO of Henry H., Louis L., Ada Cook Wilson, Bertha Cook Wilson)
Cook, Henry H. 1/29/1898-3/22/1971 (*Neola L.) (see Arden Elmer Cook)
Cook, Inie K. 2/11/1913-1/3/1981 (*Louis L.) (maiden name King)
Cook, Jerry H. 9/17/1945-7/16/1995 (SO Katie & Homer Cook, & grandson of Henry H. & Neola Cook)
Cook, Joyce W. 3/21/1929-12/27/1990 (*Kenneth D.) (maiden name Wilkins)
Cook, Katie 10/23/1919-6/10/1994 (MO Jerry H. Cook, D/O Mattie Parks)
Cook, Kenneth D. 5/28/1926-10/16/1980 (*Joyce W.) (SO Henry H. & Neola Cook)
Cook, Louis L. 3/13/1908-10/2/1980 (*Inie K.) (see Arden Elmer Cook)
Cook, Ludie Luke 12/31/1900-10/10/1973 (*Arden Elmer) (sister of Neola L. Cook)
Cook, Neola L. 2/25/1904-10/19/1980 (*Henry H.) (sister of Ludie Luke Cook)
Crain, Nannie Guinn 10/21/1882-11/10/1978 (#Robert Bruce)
Crain, Robert Bruce 11/8/1882-7/19/1950 (#Nannie Guinn)
Creekmore, Corrie Mae 4/20/1907-blank (*Guy Rancher)
Creekmore, Doris C. 4/8/1927-blank (*Virgil M.)
Creekmore, Erman L. Mississippi S2 USNR World War II 3/24/1923-9/12/1967
Creekmore, Ernestine C. 1/6/1911-1/10/1994 (*James W.)
Creekmore, Guy Rancher 3/9/1904-2/11/1954 (*Corrie Mae)
Creekmore, James W. "Bill" 12/20/1905-4/3/1973 (*Ernestine C.)
Creekmore, J.H. "Jim" 11/22/1872-2/19/1956 (#S.J. "Jack," Mary C.)
Creekmore, Mary C. 9/28/1913-7/10/2002 (#S.J. "Jack," J.H. "Jim")
Creekmore, Marvin DeWayne CMS USAF (Ret) 4/10/1923-blank (*Ruby Grace J.)
Creekmore, Minnie Wilkins 9/4/1911-10/14/1980 (#Omar C.)
Creekmore, Omar Clarence 10/8/1913-6/30/1997 (#Minnie Wilkins)
Creekmore, Parlee Malone 1/1/1884-5/27/1976 (*Thomas Haynes)
Creekmore, Ruby Grace Johnson 4/19/1930-blank (*Marvin DeWayne)
Creekmore, S.J. "Jack" 6/12/1892-2/2/1953 (#J.H. "Jim," Mary C.)
Creekmore, Thomas Haynes 1/16/1880-3/2/1955 (*Parlee Malone)
Creekmore, Virgil M. 5/13/1926-4/26/1991 (*Doris C.) Military stone US Army World War II same dates. Purple Heart.
Davis, Bobbie Loraine Long 6/3/1925-blank (*Norman) [DO William T. & Ivah F. Evans Long, married 6/26/1944; children Ivah Lou, David, Nathan]
Davis, Norman 11/27/1922-blank (*Bobbie Loraine) [SOWilliam Henry & Virgie M. Luke Davis; see Bobbie Loraine Long Davis]
Davis, Virgie Luke 10/12/1890-2/9/1988 (#William Henry)
Davis, William Henry 1/6/1889-10/22/1963 (#Virgie Luke)
Eldridge, John W. 1/16/1917-5/25/1995 (*M.Virginia) [married 10/24/1953]
Eldridge, Mary Virginia 1/15/1925-blank (*John W.) {D/O Fred and Ada Cook Wilson}
Floore, Claude V. 7/11/1893-1/24/1989 (*Maggie M.) [married 4/25/1920]
Floore, Maggie M. 3/29/1897-9/6/1986 (*Claude V.)
Fulton, Cecil Clyde 12/10/1907-4/30/1977 (*Erline Shepard)
Fulton, D. Print 6/6/1886-2/7/1972 (*Maggie C.)
Fulton, Erline Shepard 12/25/1907-12/7/1956 (*Cecil Clyde)
Fulton, Ethel Teer 2/7/1919-10/1/2001 (*George Russell, Sr.)
Fulton, George Russell, Sr. 11/29/1915-blank (*Ethel Teer)
Fulton, Hardie S. US Army Korea 12/21/1928-1/22/1980
Fulton, Jeff F. 11/22/1910-5/9/1986 (*Stuart B.)
Fulton, Laura Michelle 4/8/1966-1/8/1968
Fulton, Lavern M. 1/27/1917-9/28/1975 (*Ruby Teer) Military stone: Lavern
McArthur Fulton PFC US Army World War II 1917-1975
Fulton, Louis 6/8/1890-8/21/1966 (*Ruth)
Fulton, Maggie C. 5/19/1892-1/25/1969 (*D. Print)
Fulton, Mildred J. 9/22/1911-10/18/1985 (*William F.)
Fulton, Myra Alice 9/24/1905-1/14/1954
Fulton, Ruby Teer 9/16/1921-9/28/1971 (*Lavern M.)
Fulton, Ruth 4/6/1901-9/10/1992 (*Louis)
Fulton, Stuart B. 12/28/1910-3/1/2002 (*Jeff F.) FHM: Stuart Irene Baker
Fulton, died 3/1/02, age 91 years, 2 mo., 3 days
Fulton, William F. 11/28/1908-blank (*Mildred J.)
Harbour, IDO James H. & Mable Harbour 4/21/1960 (only date)
Harbour, Johnnie Bass 3/13/1902-11/10/1957 (*Rubye Erlene)
Harbour, Rubye Erlene 12/13/1903-6/27/1989 (*Johnnie Bass) FHM: Rubye Sanford Harbour
Harrell, Myrtis Mardis 9/24/1923-2/2/1988 (at the head of James E. Mardis, & between Levi A. & Mary E. Mardis)
Haskins, Helen Richardson Luke 8/5/1922-5/26/1977
Hicks, Austin E. 2/5/1902-1/21/1990 (#Carolyn Joy, Mildred)
Hicks, Carolyn Joy 2/20/1934-5/27/1960 (#Mildred, Austin E.)
Hicks, Mildred Hillman 9/4/1912-10/9/1999 (#Carolyn Joy, Austin E.) FHM: died 10/9/1999, aged 87 years, 1 month, 5 days
Holliday, Josephine Crain 10/7/1913-10/29/1997 (next to Nannie Guinn & Robert Bruce Crain)
Jones, Claud Lamar 9/12/1924-blank (*Jimmie Jewel)
Jones, Dwight L. 10/28/1953-7/3/1982
Jones, Jimmie Jewel 7/27/1929-2/3/2000 (*Claud Lamar)
Landrum, Alma Jean 4/8/1927-1/16/1996 (*Gerald Lemar)
Landrum, Gerald Lemar (sic) 3/23/1929-blank (*Alma Jean)
Landrum, Henry Clevland (sic) 3/23/1896-3/11/1962 (*Theolia M.)
Landrum, James Cleo 9/18/1916-1/25/1992 (*Mary A. Presley) Military stone MSgt US Army Air Corps World War II, same dates
Landrum, Leola Dale 4/8/1920-4/12/1958
Landrum, Mary A. Presley 8/16/1919-blank (*James Cleo)Landrum, Theolia M. 9/30/1902-9/23/1993 (*Henry Clevland)
Luke, Nettie C. 11/20/1905-5/29/1998 (*Vester C.)
Luke, Vester C. 8/27/1906-3/9/1984 (*Nettie C.)
Mardis, James E. STM2 US Merchant Marine World War II 7/1/1927-3/1/1998 (at the foot of Myrtis Mardis Harrell)
Mardis, Levi A. 6/5/1896-10/28/1971 (#Mary E.)
Mardis, Mary E. 12/27/1894-8/31/1967 (#Levi A.)
McArthur, Thurman 4/28/1908-3/12/1983
Murphy, blank (*Rolf Augustus)
Murphy, Rolf Augustus 5/31/1932-9/11/1997 (*Murphy, blank) Military stone US Navy Korea
Pace, Ann, IDO Clinton & Nelda Pace 11/24/1963-11/25/1963
Pace, Arthur Clinton 10/11/1922-12/8/1996 (*Nelda Harbour)
Pace, Nelda Harbour 2/8/1937-blank (*Arthur Clinton)
Palmer, Florrie W. 3/16/1917-blank
Palmer, Otis Bryant, military stone Col US Army World War II Korea 9/11/1916- 9/21/1991
Parks, Mattie 8/1/1888-12/9/1983 (MO Katie Cook)
Perkins, Eric S. 2/23/1908-2/2/1985 (*Mary Jo)
Perkins, Mary Jo 10/24/1910-blank (*Eric S.)
Person, Annie Ruth 2/14/1911-blank (*Eugene) FHM present, indicating death, but is illegible
Persons, Eugene 2/21/1911-6/25/1981 (*Annie Ruth)
Puckett, Kimble Joy Wilkins 9/20/1960-1/16/1988
Purvis, Adeline B. 2/9/1932-blank (*Curtis)
Purvis, Curtis 7/4/1925-6/11/1995 (*Adeline B.) Military stone TEC5 US Army World War II
Purvis, James Elmer 9/15/1912-8/30/1986
Purvis, James Marion 5/5/1886-4/8/1957 (*Virgie B.)
Purvis, Virgie B. 4/26/1892-10/31/1961 (*James Marion)
Richardson, B.H., Jr. 3/12/1923-4/22/1998 Mason, Military stone TEC5 US Army World War II same dates, Purple Heart
Richardson, Buford H. 3/3/1889-11/27/1968 (*Vera P.)
Richardson, Vera P. 4/11/1896-11/28/1986 (*Buford H.)
Robinson, William Larry 3/21/1947-10/17/1965 (#William Murdock)
Robinson, William Murdock 10/15/1910-7/3/1980 (#William Larry)
Shepard, J.E. "Ed" 5/29/1892-8/25/1968 (*Lillie R.)
Shepard, Lillie R. 3/5/1889-3/3/1980 (*J.E. "Ed")
Skipper, Evie Jackson 7/23/1898-1/8/1968 (*Florrie Sanford)
Skipper, Florrie Sanford 9/2/1906-1/8/1968 (*Evie Jackson)
Teer, Beverly Ann D/O T.G. & Mary Ann Teer 4/17/1963-4/17/1963
Teer, Ellie Fulton 10/6/1909-9/28/1994 (*Jame Andrew)
Teer, James Andrew 1/20/1890-1/16/1973 (*Ellie Fulton)
Wahl, Isabel 2/5/1913-7/18/2002 FHM Isabell (sic) Joyce Wahl
Wilkins, Annie S. 6/24/1910-11/6/1989 (*Melvin M.)
Wilkins, Avie King 6/12/1910-blank (*Curtis T.)
Wilkins, Curtis T. 12/23/1901-5/30/1977 (*Avie King)
Wilkins, Elward Leon 10/19/1932-10/22/1988 (*Walterine Hailey) Military stone Cpl US Army Korea 10/19/1932-10/21/1988 (note date differences)
Wilkins, J.Murdock 5/26/1906-4/2/1986 (*Nonie Julia) [married 8/18/1924]
Wilkins, Melvin M. 5/9/1909-11/8/1966 (*Annie S.)
Wilkins, Mollie Teer 3/15/1877-10/25/1972 (#Robert Sylvester)
Wilkins, Nonie Julia 3/6/1908-6/16/1994 (* J.Murdock) FHM Mrs. Nonie Wilkins Teer
Wilkins, Robert Sylvester 5/28/1876-10/23/1963 (#Mollie Teer)
Wilkins, Walterine Hailey 4/27/1936-8/1/1986 (*Elward Leon)
Wilson, Ada Cook 12/24/1902-11/7/1975 (*Fred) (see Arden Elmer Cook)
Wilson, Bertha L. 3/13/1892-2/3/1975 (*Horace A.) (see Arden Elmer Cook)
Wilson, Fred 4/17/1906-4/8/1984 (*Ada Cook) (not related to Horace A. Wilson)
Wilson, Horace A. 11/12/1883-2/22/1967 (*Bertha L.) (not related to Fred Wilson)
Wyse, Ada Burnett 11/5/1942-1/25/1964
Young, blank (*Gerald O.)
Young, Cecil Lorraine 3/5/1916-blank (*George Cleo)
Young, George Cleo 3/24/1917-10/5/1984 (*Cecil Lorraine)
Young, Gerald O. 9/6/1940-1/4/1993 (*blank)[W.M. 1992] Married 11/22/1961
Young, Ronnie George 4/26/1943-1/14/1977, Military stone SSgt US Army Vietnam, same dates