Unnamed Cemetery, New Hope Community
Submitted by Shelly Belk, Leake Co., MS
I stumbled upon a family graveyard in the middle of the woods, near the New Hope Community, Kemper County. What remains of the old house is a shell, but beautiful just the same. I only saw 2 graves, but I'm sure there are more hidden under the weeds. The old home sits at the very end of a country road.The graves are SO old.
Click on the images for a larger view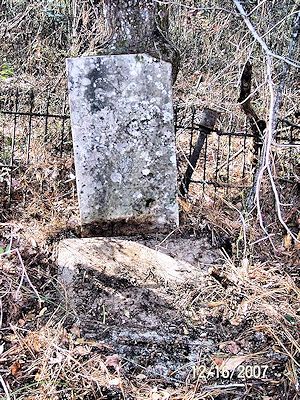 Lemuel G. Steele - 1803 - 1865
Sarah (wife of Lemuel) 1800 - 18 August 1845
Sarah has a very large above ground tombstone that is shaped like the ones you find in Louisiana, it is hollow and crumbling with a very long inscription on it. Also, Lemuel's grave has the symbol of a mason on it. The old rod iron cemetery gate only has one side still standing. It is a sight to behold.
According to some searching I've done on this family, Lemuel G. Steele may have married again after death of his first wife. According to graves stones at the Blackwater Baptist Church Cemetery in Kemper Co, MS, it lists James P. Steele, b. April 11, 1850, d. Feb. 13, 1897, "Son of Lemuel G. & Nancy A. Steele". It also lists "Nancy C. Steele, wife of L.G. Steele, b. Nov. 3, 1823, d. Apr. 11, 1907."

Contact Us
Jeff Kemp - State Coordinator
Ann Allen Geoghegan or Denise Wells, Asst. State Coordinators
Questions or Comments?
If you have questions or problems with this site, email the County Coordinator. Please to not ask for specfic research on your family. I am unable to do your personal research. I do not live in MS and do not have access to additional records.