Gibson Family Cemetery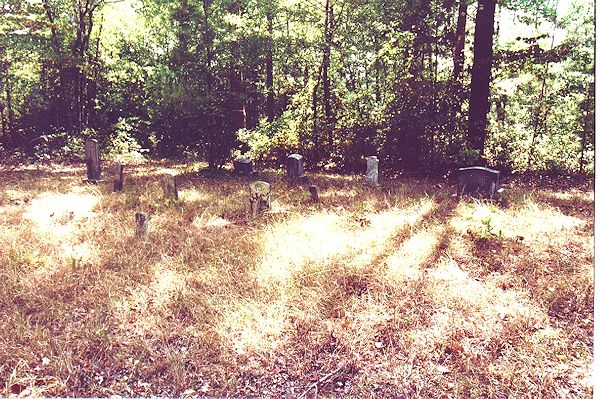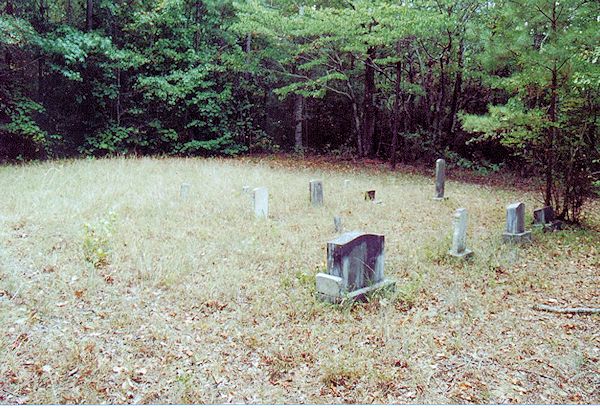 Submitted by Mary Lois Gibson.
T10 R14 S24
Moscow, Kemper County, Mississippi
This family cemetery is located on Old Jackson Road east of Highway 495. From Big Oak Church and Cemetery on Old Jackson Road, it is 1.7 miles northeast. The cemetery is in a clearing on the south side of the road, several yards into a wooded area. In 2000 the crumbling remains of the house owned by James Cornelius "Big Jim" Gibson could be seen from the road. The cemetery is down a path from the house.
This cemetery was originally recorded by Debbie VanDevender and Lynette Long on November 25, 1988, with the help of James Phelan Gibson, who owned the property. This property is still owned by Gibson family members. Pictures, comments [in brackets], and verification provided by Mary Lois and L. E. "Gib" Gibson, Jr. (great-great-grandson of Eli Terry Gibson and Elizabeth P. Gibson), following visit to cemetery in August 2000.
There are six unmarked (*) graves, which are verified by family tradition and information in a family Bible owned by James Phelan Gibson. Copies of the Bible pages and the cemetery listing are on file in the DeKalb Public Library in Kemper County.
Gibson, Pvt. Olen Sep 27, 1923 - Jun 17, 1944 Co. B, 32nd Sig Bn., Camp Crowder, MO, Died while serving his country WWII [Son of Cornelius Gibson, who was daughter of James Cornelius Gibson and Fannie L. Gibson]
Gibson, Lula Stennis Feb 6, 1905 - Apr 19, 1907 Daughter of J. C. and F. L. Gibson [Daughter of James Cornelius Gibson and Fannie L. Gibson]
Gibson, Fannie Lorina [Wamble] Mar 18, 1873 - Sep 11, 1939
[Wife of James Cornelius Gibson]
Gibson, James Cornelius "Big Jim" Oct 18, 1873 [Oct 19, 1867] - Dec 14, 1950 [Husband of Fannie L. Wamble Gibson; son of Eli Terry Gibson, Sr. and Elizabeth P. Terry Gibson. Birth date on tombstone is incorrect according to family Bible records and census records. In 2000 there was an unreadable funeral home marker in front of the tombstone; we were told that it had the correct birth date on it; correct birth date should be Oct 19, 1867.]
* Gibson, John T. Nov 23, 1856 - Oct 3, 1886 29 yrs 10 mos 10 days [Son of Eli Terry Gibson, Sr. and Elizabeth P. Terry Gibson]
* Gibson, Philomon Gully May 10, 1860 - Sep 12, 1861 1 yr 4 mos 2 days [Son of Eli Terry Gibson, Sr. and Elizabeth P. Terry Gibson]
* Gibson, Francis T. Sep 24, 1862 - Jun 6, 1864 1 yr 8 mos 12 days [Daughter of Eli Terry Gibson, Sr. and Elizabeth P. Terry Gibson]
* Gibson, Sarah Jane (Jennie) Dec 18, 1842 [Born in Richmond County, NC. Death date may have been Feb 1912. Daughter of Eli Terry Gibson, Sr. and Elizabeth P. Gibson]
* Gibson, Eli Terry, Sr. Mar 24, 1817 - Oct 2 or 7, 1892 75 yrs 6 mos 8 days [Born in Richmond County, NC. Came to Kemper County, MS about 1845. Husband of Elizabeth P. Terry Gibson]
* Gibson, Elizabeth P. [Terry] Jun 6, 1825 - Jan 7, 1892 66 yrs 6 mos 2 days [Born in Richmond County, NC. Wife of Eli Terry Gibson, Sr.]
Kirk, Little Ella Aug 11, 1893 - Feb 8, 1894, Daughter of J. R. and E. R. Kirk [Daughter of Jim R. Kirk and Emily Rocksanna Gibson Kirk]
Kirk, James Haze Apr 13, 1885 - Apr 2, 1886, Son of J. R. and E. R. Kirk [Son of Jim R. Kirk and Emily Rocksanna Gibson Kirk]
Kirk, Bettie Lou Jan 10, 1884 - Sep 12, 1884, Daughter of J. R. and E. R. Kirk [Daughter of Jim R. Kirk and Emily Rocksanna Gibson Kirk]
Kirk, Emily Rocksanna [Gibson] Jan 1, 1855 - Oct 22, 1894
[Daughter of Eli Terry Gibson, Sr. and Elizabeth P. Terry Gibson]
�

�