Tinsley Cemetery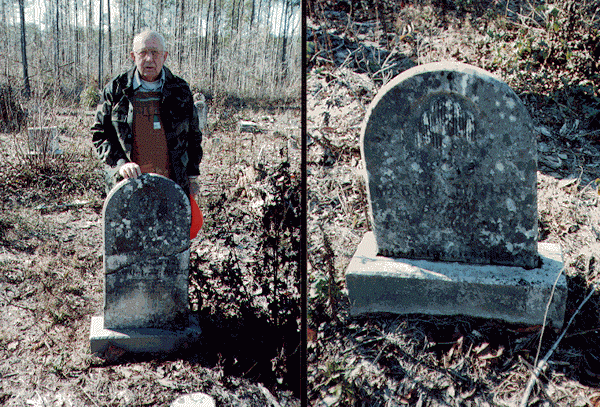 submitted by Sean Tinsley
Inscriptions taken on Aug. 24, 1980 by Mr. and Mrs. John Bounds and E.Q. Richards.
Tinsley "First Families" Genealogy
JOHN TINSLEY'S TOMBSTONE MARTHA (BONNER) TINSLEY'S TOMBSTONE
(MY GRANDFATHER JOHN H. TINSLEY HOLDING THE TOMBSTONE OF HIS GREAT GRANDFATHER JOHN TINSLEY)
Martha Tinsley born Jan. 16, 1803 - died Mar. 19, 1873 Born in Jefferson County, Georgia
John Tinsley born Apr. 16, 1797 - died Oct. 27, 1872 Born in Jones County, Georgia
W.G. Johnson, age about 65 yrs. died 1851?
W.T. Johnson born Aug. 1, 1854 - died 1892
Lauro F. Glass daughter of J.H. and M.A. Glass born Dec. 10, 1873 - died Jan. 16, 1875
Charles O. Glass , son of J.H. and M.A. Glass born Mar. 13, 1888 - died May 1, 1891
Mattie E. Glass daughter of J.H. and M.A. Glass born Oct. 7, 1891? - Died July 29, 1892
James Philips born May 25, 1843 - died Jan. 29, 1891
Charles B. Tinsley born Sept. 1, 1833 - died June 28, 1916
Arabella D. Tinsley born Apr. 15, 1839 - died Mar. 1, 1916
Henry Lee Tinsley son of C.B. and A.D. Tinsley, born Mar. 12, 1871 - died July 6, 1876
Charley M. Tinsley, son of C.B. and A.D. Tinsley born Oct. 19, 1869 - died July 1870
Charles H. Oden born Sept. 22, 1856 - died Dec. 31, 1857
Lizzie E. Tinsley, daughter of A.G. and L.E. Tinsley born Feb. 9, 1885 - died Aug. 12, 1885
John W. White, Husband of Nancy White born Dec. 28, 1818 - died March 13, 1872
Elizabeth R. K. Sherrod born July. 27, 1827 – dead est. 21, 1879
Nancy Tinsley born Jan. 28, 1822 - died Oct. 28, 1898
Benjamin T. Tinsley born Mar. 25, 1838 - died Jan. 21, 1862
W. E. Beckham born May 31, 1853 - died Dec. 12, 1892
Nancy Oden White, Wife of J. W. White. Born Dec. 7, 1828 - died June 16, 1897
John J. Tinsley, husband of L.A. Tinsley born Jan. 14, 1823 - died Nov. 30, 1885
Lettie A. Tinsley, wife of John J. Tinsley born Feb. 27, 1827 - died Sept. 4, 1892
Margaret F. Tinsley born Jan. 16, 1867 - July 28, 1871
Albert T. Tinsley born Jan. 10, 1866 - Mar. 28, 1866
Infant of H.G. and G. Tinsley
Joanna Tinsley, daughter of J. J. And L.A. Tinsley born Sept. 18, 1856 - June 13, 1881
Mary E. Tinsley, daughter of J. J. and L.A. Tinsley born Feb. 21, 1852 - Nov. 18, 1863
THIS CEMETERY IS NOW UNUSED. IT IS IN A WOODED AREA OFF A GRAVEL ROAD. SOME OF THE STONES ARE BROKEN. RECENTLY THE TREES HAS BEEN CUT OFF AND THE CEMETERY HAS BEEN CLEANED UP AND THE GRASS IS BEING CUT ON A REGULAR BASIS.

Questions or Comments?
If you have questions or problems with this site, email the County Coordinator. Please to not ask for specfic research on your family. I am unable to do your personal research. I do not live in MS and do not have access to additional records.